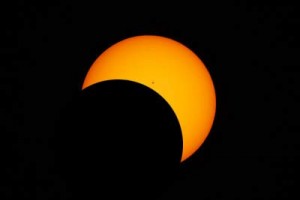 A rare opportunity to view a partial solar eclipse will occur this afternoon across much of the country, including Colorado and Wyoming.  A solar eclipse occurs when the moon passes in front of the sun, with total eclipse leaving just the corona visible while a partial eclipse, which we will see today, will produce a crescent-shaped sun. For eye safety reasons do not directly look at the sun with the naked eye.  In Colorado and Wyoming the Solar eclipse will start around 3:15 this afternoon, with the greatest eclipse expected around 4:30 and ending at 5:45.  Almost 50% of the sun is expected to be obscured at maximum eclipse.
- Viewing safety information.
- Additional information about today's solar eclipse.