Craig firefighters responded to a vehicle fire this morning on top of Knez Divide on Moffat County Road 33. According to firefighters, the vehicle was a pick up truck owned by Anson Excavating. The fire broke out a little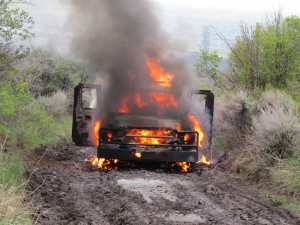 before seven this morning. The cause is unclear, and due to the damage, may never be known. However, the driver of the truck indicated the fire started in the engine compartment. The truck was a total loss, but there were
no injuries.  Click Pictures to Enlarge.  Photos courtesy of Doug Slaight.