SUNDAY UPDATE OF AREA FIRES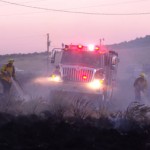 Fire crews and engines have established afire line on the north flank of the Wolf Fire with the majority of perimeter growth on the southern end.  The Wolf Fire is five miles south of Elk Springs off Highway 40 in Moffat County.  It started on Bureau of Land Management and has burned on to private land. Lighter winds yesterday allowed crews to work building line and the helicopters and single engine air tankers were able to fly and either drop retardant or water as needed. The Divide Fire will most likely begin releasing an engine or two today.  The Moffat Count Road and Bridge has two road maintainers assisting with access issues. Access to water has been one of the control issues challenging the firefighters. The helicopter assisting with water drops has been dipping out of the White River which is about 10 miles south of the incident.
Cause: Lightning Injuries: None Evacuations: None Containment: 10% Full Containment: 8/10/12 Reported: August 3, 12:16 p.m. Values at risk: Oil and gas facilities three miles south of the incident; critical wildlife habitat; grazing Assigned Resources: Five-20 person hand crews; five engines; two road maintainers; two SEATs; one helicopter Personnel: 130
The Divide Fire: Fire personnel have today made good progress and they have been able to get a line around much of the incident. Aerial support from the assigned helicopter dropping water assisted with fireline construction. The Divide Fire is 250 acres and five miles south of the Wolf Fire on BLM public and private land. The eight smokejumpers, one engine and one 20 person hand crew are mopping up and extinguishing hot spots.
Cause: Lightning Injuries: None Evacuations: None Containment: 50% Full Containment: 8/6/12 Reported: August 3, 1:28 p.m. Values at risk: None
Two other smaller fires in the Piceance Basin area in Rio Blanco County have been contained at one tenth acre and one and one half acre. These were both caused by lightning.
The Sage Fire in Routt County a few miles south of Hayden is contained at six acres. It is on private land and the cause is undetermined.
BALLOONS AND BBQ BLAST A HUGE SUCCESS
The combined Moffat County Balloon Festival and the Colorado State BBQ Championships, which begin on Friday, ended Sunday morning with a launch of the hot air balloons. The weekends near perfect weather drew a record crowd to the events. Saturday night concluded with well over a thousand attending a concert, featuring the Beatles tribute band the Fab-4, which received rave reviews.  The concert was followed by a balloon glow.  It took nearly an hour for the traffic clear oudy-Simpson Park.  In the BBQ Championship, the big winner was "Peace Pit BBQ" which was awarded first place in pork and forth in both chicken and pork ribs.  Of the 35 BBQ competitors, Peace Pit BBQ was the overall winner, slightly edging out "Team Enoserv". A photo gallery of the weekends activities can be seen near the top of this page.