WOLF FIRE ABOUT 700 ACRES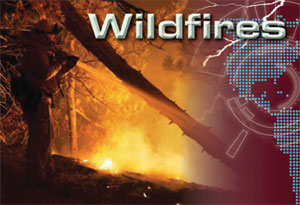 Craig, CO – The Wolf Fire, located about five miles south of Elk Springs off Highway 40 in Moffat County, is burning actively in sagebrush and pinion and juniper trees. Winds up to 35 miles per hour drove the wildfire throughout the day to the current size of 700 acres on Bureau of Land Management land. One 20 person hand crew and two engines are on scene with three more hand crews ordered and additional engines. In order to slow the fire's spread, two single engine air tankers dropped retardant earlier today.
Oil and gas facilities are situated about three miles south of the Wolf Fire but winds are out of the west/northwest and moving the fire away from the well pads. Smoke from the Wolf Fire drifted east across Moffat County causing concern with residents. A type 3 incident management team will assume management of this incident tomorrow morning.
The fire was reported at 12:16 p.m. today. No structures are immediately threatened. No containment reported.
The Divide Fire is five miles south of the Wolf Fire on BLM public land. Size is estimated to be 150 acres. Responding to this incident are eight smokejumpers and one engine. Ordered are three engines and one 20 person hand crew. The blaze was reported at 1:28 p.m. today. The smokejumpers reported high winds in the area causing the fire to make runs through the sagebrush and pinion and juniper trees in the area.
No structures are threatened. No containment reported.
The Piceance Fire, reported at 7:23 p.m. August 2, is contained at 15 acres on BLM public land in Rio Blanco County 15 miles west of Meeker.
The cause of the three fires listed above is the result of dry thunderstorms and lightning.
Two other small wildland fires were reported this afternoon in Rio Blanco County and are contained.
A Red Flag Warning is in effect for northeast Utah and northwest Colorado through 9 p.m. this evening. Dry fuels, low humidity and gusty winds have prompted the warning.
UPDATE ON OTHER WILDLAND FIRES IN MOFFAT AND RIO BLANCO COUNTIES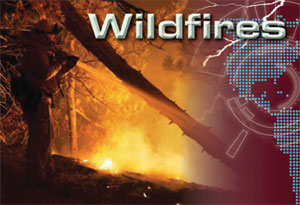 Craig, CO – The Piceance Fire was reported at 7:23 p.m. last night and is 12 acres on Bureau of Land Management land 15 miles west of Meeker. It is a holdover from lightning a couple days ago. A holdover fire develops when a lightning strike does not immediately start a fire, but sits for a couple days and ignites when conditions are right for combustion. A helitack crew was dropped off in the fire area to begin fighting the fire. Winds pushed the fire and the helitack crew worked late into the evening establishing an anchor point. Today a 20 person hand crew and two engines will take over fireline construction. No structures are threatened.
Wildland fires now contained are: K Fire; one third acre; on BLM land; Moffat County
Sheephead Fire; four acres; on BLM; Moffat County
Dry Knob Fire; one tenth acre; on BLM; Moffat County
Springs Fire; one acre; private land; Petersen Draw, Moffat County
Pie Fire; two acres; BLM; Rio Blanco County
The Sugar Fire is expected to be 100% contained by this evening. A 20 person hand crew will work with the squad and engine today to mop-up and reinforce fireline. The incident is five and one half acres on BLM land 20 miles west of Craig off Highway 40 in Moffat County.
The weather forecast through the weekend is calling for lower relative humidity and drier conditions with the possibility of occasional wind gusts. Fire danger is moderate in Rio Blanco, Moffat, Routt, Jackson, and Grand counties.
SUPPRESSION EFFORTS CONTINUE ON THE ARAPAHO FIRE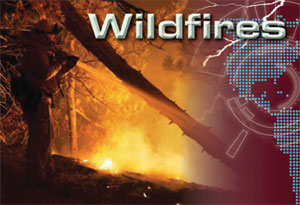 Hot spots within the west and northwest portions of the Arapaho Fire, which started in late June on the Medicine Bow National Forest, continue to smolder and occasionally flare up.  Although most hot spots are isolated and on the interior of burned areas, some near the uncontained perimeter have pockets of unburned fuel and remain a priority for fire managers.
The fire, which was about 88 percent contained by mid July, remains uncontained in some of the most steep and rugged portions of Laramie Peak and Eagle Peak.  While firefighter safety remains the foremost concern, moderating fire weather in recent weeks has allowed firefighters to begin safely resuming direct suppression tactics in some of these areas.  Containment is now estimated at 90 percent; however, due to firefighter safety concerns, full containment and control of the fire may not occur until a season-ending precipitation event can help suppress remaining hot spots.
Current fire operations are focused on building containment line where it can be safely and effectively accomplished.  Additionally, as needed, crews are completing mop-up and patrol on the Arapaho Fire, as well as initial attack of any new fire starts.  Helicopters will be used to suppress hot spots that are inaccessible by ground crews.  Rehabilitation of roads and interior fire lines will also continue.
A Burned Area Emergency Response (BAER) team has completed their field assessment and is currently working on the report and request for funds to complete emergency stabilization and resource protection work.
The Fire Module that was assigned to help clarify long-term fire management strategies and contingency plans, particularly for those unlined portions on the western flank, has been demobilized from the incident.
At 98,115 acres, the Arapaho Fire remains the largest wildland fire in Wyoming this year.
For more general information on the Arapaho Fire contact the Douglas Ranger District at 307-358-4690.  Media inquiries should be directed to Larry Sandoval or Aaron Voos at 307-745-2420 or 307-745-2323, respectively.
CDOT PAVING US 40 IN CRAIG NEXT TUESDAY AND WEDNESDAY
On Tuesday, August 7, the Colorado Department of Transportation will be repaving a section of US 40 (Victory Way) and Yampa Avenue in Craig. On Wednesday, August 8, CDOT will be paving another section of US 40 at State Highway 13/Moffat County Road 7 in Craig.
Beginning at 6 a.m. and lasting until 5:30 p.m. on Monday, crews will be rotomilling and repaving the section highway at Yampa Avenue. One lane of the highway will be closed, and each direction of traffic will be alternated through the work zone by flaggers. Heavy loads are urged to re-route from US 40 on the east side of Craig onto 1st Street and from SH 13 to Moffat County Road 183/Craig bypass from the west side of Craig.
From 6 a.m. to 5:30 p.m. on Wednesday, crews will be rotomilling and paving the section of SH 13/MCR 7, which will also require that crews close one lane of the highway and will alternate traffic through one direction at a time.
Delays are expected as part of both projects and speed limits will be reduced near construction. Motorists are reminded to obey all road signs and flaggers, and to drive Slow for the Cone Zone.
To receive real-time updates about road conditions in your area, visit www.coloradodot.info and click on the green cell phone icon in the upper right hand corner of the page. Updates are also available via Twitter @coloradodot and be sure to "Like" our Facebook page at www.facebook.com/coloradodot.
TIPTON AND PACE TO DEBATE IN ALAMOSA THIS WEEK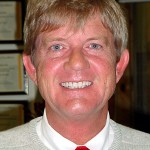 Republican Representative Scott Tipton will debate his opponent, Democrat Sale Pace, Wednesday in Alamosa.  Tipton represents the third district in Colorado, which includes the entire Western Slope, and parts of Southeast Colorado.  The two will debate topics like energy, the economy, education, and veteran's issues.  The debate is scheduled for Wednesday evening from 7 to 9 at Adams State University.
MAURICE'S TO OPEN STORE AT 1850 WEST VICTORY WAY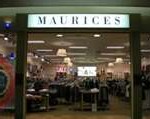 Maurice's new location in Craig will open later this month.  The store is moving from the Centennial Mall, to a cluster of shops near Walmart.  It's also where Hibbett Sports is expected to open a store.  The new shop is one of over 50 Maurice's is opening nationwide.  The opening date is Thursday, August 26th at 5 in the evening.