CRAIG SAND FIRE OFFICIALLY OUT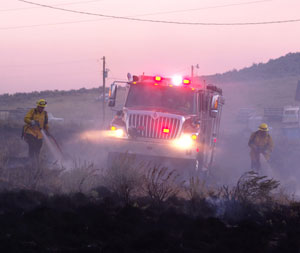 A fire west of Craig which forced some people out of their homes Tuesday night was declared "out" yesterday afternoon. The fire which burned 2,000 acres, was said by Moffat County Sheriff, to be a "wake up call" for everyone to be extra diligent in  preventing fires this summer. Preliminary analysis by the BLM and Sheriff Department, indicates that the fire was likely started by a cigarette tossed from a vehicle. The point of origin was 11 miles west of Craig next to highway 40.  Due to the extreme fire danger, fire bans have been put in place all over Northwest Colorado, and 4th of July fireworks shows have been canceled in Steamboat and Oak Creek. If wildfires are burning in the area, using up BLM and Sheriff's firefighting resources in Moffat County, Craig Fire Chief Bill Johnston says the fireworks show in Craig will also be canceled.  There were many people on yesterdays "55 Country's Swap Shop" program who called in specifically to thank the firefighters and Sheriff's Department for their quick response and fine work, which prevented the fire  from damaging homes and property.
EAGLE COUNTY JOINS FIRE BAN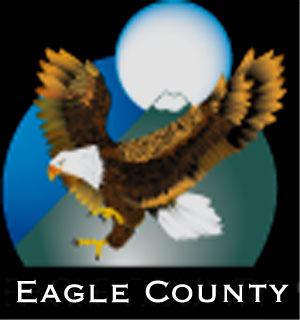 With Colorado facing some of the most dangerous fire conditions on record the  Eagle County Sheriff's Department, in collaboration with local fire authorities, White River National Forest and the Bureau of Land Management, has decided to enact Stage II fire restrictions in Eagle County. These restrictions will take effect tomorrow and ban any open fire including building, maintaining, attending or using a fire or campfire, charcoal grill, any type of charcoal fueled broiler, Tiki torch, wood burning stove, sheepherders stove, or open fire of any type. These restrictions include developed camping and picnic grounds. Devices using pressurized liquid or gas are exempted.  A comprehensive listing of additional fire restrictions in Eagle county and throughout the state and other fire related emergency information can be found below.
Smoking, except within an enclosed vehicle, trailer, building or tent
Using an explosive requiring fuse or blasting caps, fireworks, rockets, exploding targets and tracers or incendiary ammunition;
Operating a chainsaw, cutoff saw, or any other mechanical equipment without an approved spark arrestor and without chemical pressurized fire extinguisher (8 oz. capability by weight or larger and kept with the operator) and without one "O" or larger round point shovel with an overall length of at least 36 inches that is readily available for use;
Welding, or operating an acetylene or other torch with open flame (except with a current permit, contract or letter of authorization and the welding area must be barren or cleared of all flammable material for 10 feet on all sides of the equipment);
Operating or using any internal combustion engine without a spark arresting device properly installed, maintained and in effective working order meeting either:
Department of Agriculture, Forest Service Standard 5100-1a; or
Society of Automotive Engineers (SAE) recommended practice J335(b) and J350(a).
The following persons are exempt from this order:
Persons with a permit or letter of authorization specifically authorizing the prohibited act or omission.
Any federal, state, or local officer or member of an organized rescue or firefighting force in the performance of an official duty.
A comprehensive listing of fire restrictions throughout the state and other fire related emergency information can be found online at www.coemergency.com . Information on current wildfires in Colorado and around the country is available at www.inciweb.org .
The Eagle County Sheriff's Office is urging people living in and near fire-prone areas to be prepared for the worst by protecting their property through clearing brush and removing dead branches, along with many other steps that are outlined at www.firewise.org. In addition, residents should prepare emergency evacuation plans and make sure they have their most valuable and important possessions prepared for transport.
HIGH PARK FIRE NOW COLORADO'S LARGEST OF ALL TIME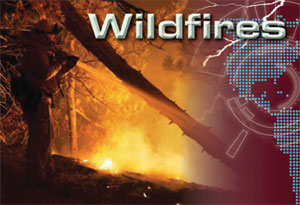 The High Park Fire west of Fort Collins, which now ranks as the most destructive Colorado wildfire on record, has burned more than 100 square miles and is blamed for one death and has destroyed 189 homes since it began 12 days ago.  The lightning caused fire is at the edge of the Roosevelt National Forest, and authorities say they expect property losses to climb once more damage assessments are made.  As of yesterday about 1,000 homes remained evacuated
COLORADO SENATORS UDALL AND BENNETT VOTES SUPPORT NEW EPA STANDARDS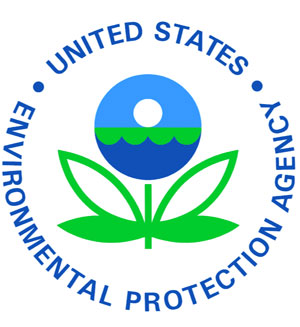 Colorado's Senators Mark Udall and Michael Bennett voted against a joint resolution in the Senate yesterday that would have blocked the Environmental Protection Agency from setting the first federal standards to reduce toxic air pollution from power plants. The Democrat-controlled Senate turned back Republicans effort yesterday to overturn a regulation to cut mercury emissions from the oldest oil and coal-fired power plants in the country.  Wyoming's Senators Mike Enzi and John Barrasso both vote in favor of the resolution.  Enzi said the EPA rule would strike a fatal blow to the coal industry by causing many coal power plants to shut down.  Barrasso said the rule does little to protect public health. He says it will do just the opposite and create a health crisis because of the additional unemployment it will cause in the West.
ATTORNEY GENERAL SUTHERS SAYS NO TO REDUCED TUITION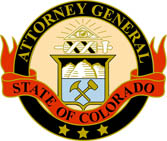 In response to a question posed by the Colorado Community College System, Colorado Attorney General John Suthers has released a formal opinion on whether Colorado's state-supported institutions of higher education have authority to create discounted tuition categories for undocumented students without legislative approval.  In his statement Suthers said that after carefully reviewing the state and federal law in this area, his office concluded that Colorado's state-supported higher-education institutions cannot create discounted tuition categories for students who are unable to prove their lawful presence in the United States. Although federal law allows state legislatures to pass statutes affirmatively providing tuition benefits to undocumented students, Suthers maintained that the General Assembly has repeatedly declined to legislate in this area and until they do, state-supported institutions of higher education in Colorado cannot act unilaterally. Suthers statement was given in response to Denver's Metro State's decision to give discounted tuition to undocumented students.