LISTEN TO MITT ROMNEY'S ENTIRE CRAIG ADDRESS

Here
LISTEN TO THE EXCLUSIVE 93.7 102.3 KRAI AND 55 COUNTRY INTERVIEW WITH MITT ROMNEY

Here
ROMNEY MAKES CAMPAIGN STOP IN CRAIG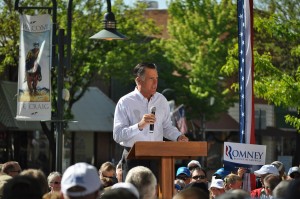 President Obama's jobs policies were the target of Massachusetts Governor Mitt Romney's campaign rally in Craig this morning.  The crowd was estimated at over 1,000 people that packed Alice Pleasant Park as the governor made a 15 minute speech.  Romney also touched on energy and the economy, tying everything back in to job creation.  The governor also gave KRAI and 55 Country an exclusive interview after the rally.  You can hear the speech and our interview in their entirety by clicking the links above.
ROMNEY GETS SUPPORT FROM LAWMAKERS, PAST AND PRESENT

In light of his campaign stop in Craig, Colorado lawmakers, both current and former, are speaking out on behalf of Mitt Romney.  In a phone interview Congressman Scott Tipton noted how important this year's presidential election is to Northwest Colorado.  Tipton has said he is a supporter of a true "all of the above" approach to energy development, as long as it supports fossil fuel development.   He said with the hostile environment the Obama administration has created for fossil fuel energy, this election could be one of the most important elections in Northwest Colorado history.  Former Congressman Bob Beauprez agrees, stating that although the current administration has virtually declared war on the fossil fuel industry, the scene would be much different under a Romney administration.  The buffalo rancher says he has been following and supporting Romney since early on in the campaign, and says Romney has embraced the concept of using all resources available.
DEADLINE FOR CHANGING PARTY AFFILIATIONS FOR PRIMARIES IS TODAY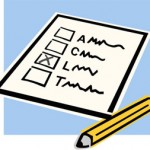 Today is the deadline for voters to register for Colorado's upcoming primary election.  The primary election is only for voters who are affiliated with a political party.  Presidential candidates are not on the ballots.  The June 26th primary is mostly about picking candidates to be on the ballot for state and local-level offices.  If you want to switch to or join a political party, you must do so by visiting your local County Elections Clerk by the end of the day today.
CLUB 20 TO HOLD NATIONAL HEALTH CARE TALKS IN CRAIG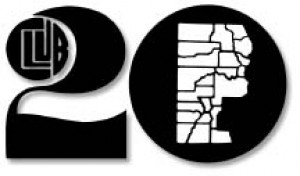 Club 20 reps will be in Craig tomorrow to talk National Health Care.  In a press release over the weekend, the group says that politicians in Washington continue to make policies on health care, that don't take into account the needs of Western Colorado.  The Club 20 Education and Research Fund, in cooperation with Colorado Mesa University, has been awarded a grant through the Colorado Trust to give a voice to Western Slope Communities, when it comes to health care.  There will be 25 sessions in the counties represented by Club 20 across the Western Slope. Attendance is by invitation only.  The group is meeting with community leaders to determine what is working, and what's not working, when it comes to health care in Craig.  The meeting is tomorrow afternoon at the Hampton Inn in Craig.
BLM TO GATHER INPUT FOR SAGE GROUSE MANAGEMENT PLAN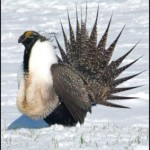 The Bureau of Land Management is planning a workshop to get public input on social and economic information that will be used in its district-wide Greater Sage Grouse planning effort.  The BLM is writing an Environmental Impact Statement on its conservation measures, with the intent to incorporate them into their Resource Management Plans for the Colorado River Valley, Grand Junction, Kremmling, Little Snake, and White River Field Offices in Colorado.  The conservation measures cover a wide range of activities on BLM land, including mineral leasing and development, recreation, and livestock grazing.  The open house meeting takes place June 12th from 5:30 to 8:30 at the Steamboat Community Center, with three presentations given throughout the evening.  It's open to the public.
SATURDAY'S DUST STORM SPANNED THREE WESTERN STATES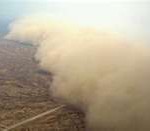 Saturday's dust storm wasn't limited to Northwest Colorado.  It was hard to tell at times Saturday whether the dark sky was caused by approaching storm clouds or a wall of dirt.  As it turns out, the Colorado Department of Health and Environment had issued a Blowing Dust Advisory for Western Colorado, and portions of the eastern part of the state.  The advisory also extended to Northeast Arizona,Western New Mexico.  There were no major problems reported locally, as a result of the dust.  However, when the dirt starts flying, health experts warn those with respiratory problems to stay indoors until the dirt settles.  Weather forecasters say similar storms can be expected throughout the summer, if the area doesn't get significant rainfall this year.