Associated Governments of NW Colorado Can challenge PUC Coal to Natural Gas Ruling
The Colorado Supreme Court yesterday announced its decision giving the Associated Governments of Northwest Colorado (AGNC) a green light to proceed with its claims against the Colorado Public Utilities Commission (PUC).   AGNC is an association of northwestern Colorado counties and municipalities which includes Mesa, Garfield, Rio Blanco, Moffat and Routt Counties.  The AGNC region boasts some of Colorado's most abundant natural resources.
In 2011, AGNC filed suit against the PUC, asking a District Court in Routt County to invalidate the PUC's approval of Public Service Company of Colorado's (PSCo) requested plan to switch from continuing to use low cost coal to building new high cost natural gas power plants.  AGNC's case is based on several legal defects in the PUC's proceedings-including that the PUC ignored the plan's massive costs to Colorado's economy and to northwest Colorado and because two of the three PUC commissioners should have recused themselves from the PUC's process.
The PUC and PSCo sought to have AGNC's case dismissed.  Routt County District Court Judge Shelly Hill denied those efforts.  In an unprecedented move, the PUC appealed Judge Hill's decision to the Colorado Supreme Court.
"We are very pleased that the Colorado Supreme Court has today made clear AGNC's right to its day in court.  The adverse impacts of the PUC approved PSCo plan on Northwest Colorado communities are staggering.  Northwest Colorado communities rely on valuable jobs associated with responsible coal mining and the PUC's ill-conceived decision threatens these jobs" said Mike Sampson, Garfield County Commissioner and Chairman of AGNC.
House Bill 10-1365, the "Clean Air Clean Jobs Act" (CACJA), which served as the basis for the PUC's decision, was rushed through the Colorado legislature in a mere 17 days, with little opportunity for meaningful legislative or public consideration.  Under the Act, extremely short deadlines also severely limited the public and local governments' opportunity to review and comment on the proposals made by PSCo to the PUC and the Colorado Department of Public Health and Environment.
The PUC approved PSCo plan will cost Colorado consumers more than $1.3 billion.  The PUC overlooked lower cost alternatives that would have cost far less and still met required emission reductions.  The PUC also failed to protect northwest Colorado communities from devastating impacts from greatly reduced coal production.  The PUC approved PSCo plan is projected to displace anywhere from 3 to 4 million tons of Colorado coal, annually.
AGNC will now benefit from Court review of bias exhibited by two of the PUC's Commissioners – discovered after a review of hundreds of emails which chronicled then PUC Chairman Binz's and Commissioner Baker's closed door participation in secret drafting and negotiation of the CACJA.  The Commissioners' own emails confirm they engineered a deal with PSCo to switch PSCo power plants from coal to natural gas and for Colorado consumers to pay for the massive costs associated with doing so.
According to Daniel Vigil, an Assistant Dean and Adjunct Professor at the University of Denver Sturm College of Law, and a recognized expert on state official ethics, the PUC Commissioners violated governing standards of impartiality and their own regulations by "actively engaging in negotiations with a regulated entity regarding issues that would come before the Commission for decision directly involving that regulated entity."  In an affidavit filed with the PUC, Vigil concluded that "the Commission's conduct undermines public confidence in the integrity and impartiality of the judiciary as the Commission is advancing the interests of some parties, including the single largest regulated entity in the state, to the detriment of the public and other interested parties."
Said AGNC Chairman Sampson "with the Colorado Supreme Court's decision today, these important issues will now proceed before a Court of law without further delay or stalling by the State or PSCo."
BLM LOOKING FOR NEW MEMBERS FOR NORTHWEST CO RAC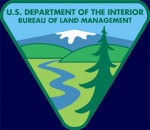 The Bureau of Land Management's Northwest Colorado Resource Advisory Committee is still looking for people interested in serving on their board.  There are 5 open positions on the 15 member panel.  The group advises the BLM on land management issues.  The idea is to fill the board with the people that live, work, and play on the land.  The panel is made up of a diverse group of people, and represents the many facets of public land management, including environmental, recreation, hunting, energy, and private interests.  The nomination period has been extended to June 4th.  Those who are interested can fill out the online nomination form.  You'll find a link to it here.
CRAIG AND STEAMBOAT POLICE TO MAN DROP-OFF POINTS FOR PRESCRIPTION DRUGS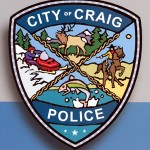 If you have old leftover prescription drugs, you can get rid of them safely this weekend.  The Craig and Steamboat Police Departments will participate in the National Prescription Drug Take Back Day Saturday.  Between 10 and 2, people can drop old prescription drugs off with officers who will collect and safely dispose of them.  Police say part of the reason for holding the event is to keep prescription drugs out of the wrong hands.  They say many teenagers use prescription drugs, thinking they're safer than illicit drugs, simply because they were prescribed by a doctor.  Police also say there were twice as many people killed from abusing prescription drugs in 2010 than those killed from drunk driving crashes.  There are some things officers WON'T take, including needles, syringes, mercury thermometers, oxygen containers, chemotherapy or radioactive substances, pressurized canisters, and illicit drugs.  The National Prescription Drug Take Back will take place in the Centennial Mall parking lot in Craig, between O'Reilly Auto Parts and Village Inn, and in the Steamboat Police Department lobby.
STATE PARKS OFFICIALS WON'T LET GUARD DOWN AGAINST MUSSELS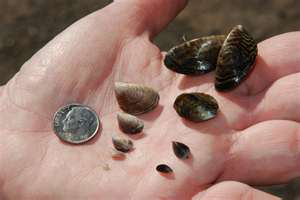 Colorado State Parks officials say they haven't seen any new mussels in state waters since 2008, but they're not going to let their guard down.  All boats entering state waters this year must be inspected.  The reason is invasive mussels.  Park Rangers are being trained to look for quagga and zebra mussels, both of which are not native to Colorado, and have destroyed dams in other western states.  So far this year, the agency has already discovered and prevented two boats infested with the mussels from entering lakes on the front range.  There are things you can do to avoid lengthy delays due to the inspection process.  A link to a description of the inspection process can be found here.
STATE SENATE PASSES MORE "JOBS" BILLS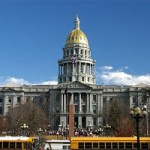 Three more bills from the Colorado Senate Democrats' jobs agenda took a step forward yesterday. Senate Bill 5, the Colorado Business Retention and Expansion Program, Senate Bill 144, the Office of Key Industries, and Senate Bill 139, The Colorado Job Support Act all passed on second reading yesterday.  At the beginning of the 2012 legislative session, Senate Democrats introduced the "Colorado Works Jobs Package" to create jobs and strengthen the economy. Although some of the Senate's job initiatives have died in the House, the majority of the bills are still advancing through the legislature, and several have made their way to the Governor's desk to become law.  They include, but are not limited to the HIRE Colorado Act, the Buy American Act, and the Colorado Business Retention and Expansion Program.
STATE SENATE SET FOR FINAL VOTE ON ECONOMIC DEVELOPMENT PLAN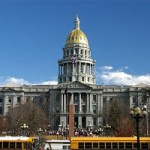 Yesterday, the Senate gave initial approval to bipartisan legislation to strengthen and grow Colorado's key industries as part of the state's larger economic development plan. Senate Bill 144 allows the Colorado Office of Economic Development and International Trade to develop a strategy to support job creation and growth in Colorado's key industries. The bill builds upon Governor John Hickenlooper's Colorado Blueprint, a bottom up approach to economic development designed to make Colorado more economically competitive.  Some of the state's key industries include tourism, manufacturing, agriculture, aerospace, electronics, information, energy and natural resources, defense and homeland security, creative industries, bioscience, technology, finance, health and wellness, transportation, and construction.  The bill now heads to the Senate floor for a final vote.
CNCC IN CRAIG HOSTS MAXIMUM COMMITMENT TO EXCELLENCE

The Moffat County School District is holding its Maximum Commitment to Excellence event at Colorado Northwestern Community College in Craig Friday.  Student academic performance and work-place readiness is a nationwide concern, and this event is meant to address that.  The event will emphasize educational opportunities in Moffat County.  It will be held from 4 to 8 Friday at CNCC.  It will include informational booths, entertainment, and door prizes.  Organizers are still accepting donations from businesses for the prizes.  The event is open to everyone.
STEAMBOAT FIRE BOARD IS LOOKING FOR A NEW MEMBER

The Steamboat Fire District is looking for a board member.  The board has a vacancy and is looking for someone who can at least make their monthly meetings.  Applicants must be registered to vote in Colorado or must have been a resident of the district for 30 days.  Applicants must also be energetic and is willing to spend that energy improving the Department.  If you're interested, call 846-3746.

In high school sports:
Today:
In girls soccer:
Moffat County hosts Delta at 4.
Tomorrow:
In baseball:
Rangely plays a double header at Meeker.  The first game starts at 4.