BUSINESS AWARDS HANDED OUT AT "STATE OF THE COUNTY" IN CRAIG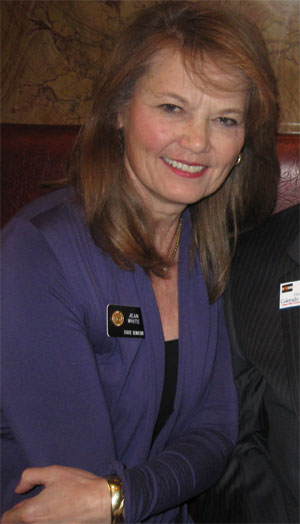 Around 90 people showed up to Friday night's State of the County event in Craig.  Various leaders from the community gave updates on what has been going on with the Craig Chamber, the City of Craig, and Moffat County over the last year, and talked of future plans.  State Senator Jean White was the keynote speaker.  The Chamber also used the event to recognize businesses that have made significant contributions to the community.  The Memorial Hospital at Craig was the recipient of the Chamber's Large Business of the Year Award, and Elkhorn Outfitters was given the Small Business of the Year Award.  The Business Person of the Year Award went to accountant Chris Jones.  Jones is a Craig native, who has recently returned to the area, and has busied himself with community involvement.  Jones is involved with the Moffat County Youth Basketball Association, The Craig/Moffat County Economic Development Partnership, and City of Craig Youth Sports, among other groups.  Friday night's event was a fundraiser for the Craig Chamber.  You can listen to each speakers entire address by clicking the links below.
Jean White State of the State Address
Audry Danner State of the County Address
Terry Carwile State of the City Address
Mardi Anson and Jeff Smith State of the Chamber Address

UDALL WANTS COLORADANS TO HELP CREATE WILDERNESS DESIGNATION LEGISLATION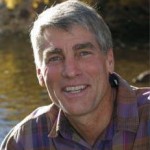 U.S. Sen. Mark Udall says he wants the public to help him craft legislation that would create wilderness and national monument designations for two popular recreation areas in Colorado.  Udall said in an interview Sunday that 32 areas covering almost 236,000 acres in Eagle, Pitkin and Summit counties in the central mountains are under consideration as wilderness areas. He says they include additions to existing wilderness areas like Holy Cross, Eagles Nest and the Maroon Bells.  The Democratic senator also wants feedback on designating 20,000 acres on both sides of the Arkansas River between Salida and Buena Vista as a national monument. The area is known for its whitewater rafting.  Udall says he doesn't have a timeline to draft the legislation, and it makes sense to have an open-ended process.
MAN WANTED FOR ATTEMPTED MURDER IN CALIFORNIA IS ARRESTED IN ROCK SPRINGS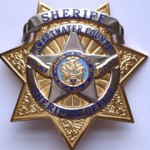 The Sweetwater County Sheriff's Office has arrested a man they say is wanted for attempted murder in a California drive-by shooting.  Oreal Belcher was arrested Saturday in Rock Springs without incident.  Police say Belcher is wanted in connection with a San Diego shooting.  They say his alleged accomplice, Paul Price, was arrested just a couple of hours after the October shooting of a bar bouncer.  The bouncer was shot multiple times in the chest, stomach, and arms.  After learning that Belcher was in Wyoming, the Sweetwater County Sheriff's Office partnered with the San Diego Police Department and the U.S. Marshall's Office to track Belcher to a home in Rock Springs.  He is currently in the Sweetwater County Jail, awaiting extradition to San Diego.
SENIORS STILL AWAITING FATE OF TAX BREAKS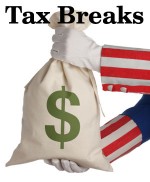 Seniors waiting for a property tax break will get an answer in the coming weeks as a budget showdown plays out in the Colorado Legislature.  Voters approved the tax break more than a decade ago, but it's rarely been in place because of tough budget times.  This year, Democratic Gov. John Hickenlooper says the state can't afford the nearly $100 million scheduled to be reinstated after a three-year absence. Republicans want to keep the tax break.  Hickenlooper says that will come at the expense of cuts to education or other programs. The exemption lets homeowners 65 and older who have lived in their homes for at least 10 years to deduct 50 percent of the first $200,000 of property value from their taxes.
LEGISLATION INTRODUCED TO ESTABLISH MARIJUANA LIMITS FOR DRIVERS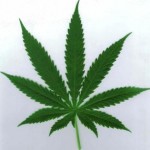 A divisive driving-while-high bill is back before the Colorado Legislature as senators revisit a measure to say how much marijuana can legally be in a driver's system.  A marijuana DUI bill was defeated last year amid heated opposition from pot activists and members of both parties. The bill being heard today would say drivers are too impaired to drive if they test positive for 5 nanograms or more of THC, the psychoactive ingredient in marijuana.  Current Colorado law says drivers can't be impaired by drugs but does not set a THC limit. Pot activists say impairment and THC levels aren't directly related. The Republican sponsor of this year's bill says law enforcement needs a standard to measure impairment.
COLORADO AG LEADERSHIP PROGRAM OFFERS TRAINING PROGRAMS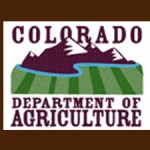 A new organization has been formed in the state to foster leadership qualities for those committed to the future of Colorado's agriculture and rural communities.  The Colorado Ag Leadership Program was announced during the Governor's Forum on Colorado Agriculture last week.  The program is expected to be similar to the now defunct Colorado Agricultural and Rural Leadership Program, which failed due to changes and reductions in state higher-education funding.  The program is a hands-on program that will recruit Coloradans involved with agriculture, agribusiness, rural industries, rural communities, and natural resource management as its instructors.  Those involved with the program say it will allow participants to gain valuable knowledge in a variety of areas, including communications, technology, social issues, resource management, and government policy.  You can find out more by clicking here.
"GIRLS WITH GOALS" FEATURED NEXT WEEK AT STATE CAPITOL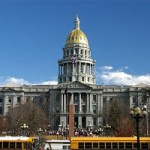 The Colorado Senate Majority Office is hosting the second annual Girls With Goals Day at the state capitol on March 5 to honor Women's History Month and Colorado's outstanding youth. During this non-partisan event, a fifth-grade girl from each senate district will join her senator for a day to learn about the Colorado legislature. For each girl, the day will include being "sworn-in" as a senator, shadowing her senator during the morning debate, lunch with her senator, a tour of the Capitol, interactive activities to help her learn about the legislative process, and a mock legislative session with "bills" proposed by the girls.  This year, two "girls with goals" will win college scholarships and savings plans provided by College In Colorado to help them prepare for their futures and inspire them to set high expectations for themselves. Both scholarship winners will receive $425.00 and a savings account with information on the importance of saving for college.

In high school sports:
Over the weekend:
In basketball:
The Little Snake River Valley boys beat Ten Sleep Friday and Burlington Saturday to win the Wyoming 1-A District tournament.  The girls also won the District tournament by beating Farson Eden Friday and Cokeville Saturday.
In Colorado:
The Meeker boys won the 2-A district tournament beating Paonia Friday and West Grand Saturday.  The girls topped Rangely Friday, then lost the Championship game Saturday to Paonia.
The Hayden boys lost to West Grand Friday and beat Paonia Saturday.  The girls lost to Paonia Friday, then beat Rangely Saturday.
Hayden's boys and girls, Meeker's boys and girls, and Rangely's girls will all participate in the Regional playoffs, starting this week.
In the 4-A state playoffs the Moffat County girls defeated Thompson Valley Friday, and then lost to Centaurus in the Sweet 16.
In hockey:
Steamboat fell to Machebeuf in the first round of the state tournament.