CRAIG WOMAN DIES IN ONE OF THREE STRUCTURE FIRES TUESDAY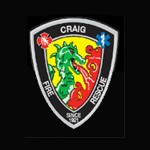 Craig Firefighters responded to three fires yesterday, the last being the worst.  A little before 8 last night, Craig Fire/Rescue responded to a residence on Woodland Avenue.  There were people still in the house at the time.  A male was saved, but a female died in the blaze.  Their names have not been released.  It's not clear what started the fire.  Already yesterday, firefighters had put out two other structure fires.  At around 7 yesterday morning, they went to a house fire on Elkhead Reservoir Road.  Nobody was injured, but firefighters say there was damage to the roof and an upstairs room.  A failure in a wood stove pipe is believe to be the cause.  The house is still inhabitable.  They also attended to a shed fire on Aspen Street a little before 4:30 yesterday afternoon.
PREFERENCE POLLS SHOW SANTORUM WINNING COLORADO CAUCUSES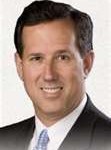 Rick Santorum pulled out a stunning victory in Colorado last night, beating Mitt Romney to win Colorado's caucuses.   Santorum had led the Colorado race for much of last night before Romney pulled ahead late in the evening.   He lost that lead a short time later.  Santorum's Colorado win was his third of the night. He also won the contests in Missouri and Minnesota.  Romney had consistently led in polls in Colorado.  Both Romney and Santorum were in Colorado yesterday, making last-minute pleas to voters.  Colorado Republicans won't actually choose most of their convention delegates until the state GOP assembly in April.  But the precinct caucuses are important indicators of a candidate's support.
15 YEAR OLD WYOMING BOY DIES AFTER FALL FROM CLIFF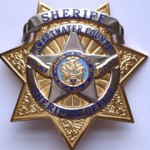 A 15-year old Green River boy was killed when he fell off a cliff near the Green River Sunday afternoon.  According to a press release from the Sweetwater County Sheriff's Department, Melvin Potter was throwing rocks from the 50 foot cliff with a friend, when the rock he stepped on at the edge of the cliff moved, and he fell.  Rescuers tried performing CPR at the scene.  Potter was taken to Memorial Hospital of Sweetwater County in Rock Springs, where he was declared dead from head injuries.  The fall has been ruled an accident.
MOFFAT COUNTY COMMISSIONERS APPROVE ALL MAIL PRIMARY ELECTION BALLOT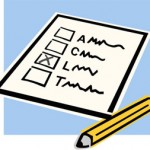 The Moffat County Commissioners yesterday approved an all mail-in ballot process for the upcoming Primary Election.  County Clerk Lila Herod said the last mail-in election went very well, and that doing so seemed to increase voter turn-out.  All active registered voters will get their ballots in the mail.  Those who don't get a ballot will be able to vote in a booth at the Moffat County Courthouse.  You can also surrender your mail ballot in order to vote in the booth at the courthouse.  The date for this year's primary election is June 26th.
B.L.M. EXTENDS PUBLIC COMMENT PERIOD FOR SAGE GROUSE PLAN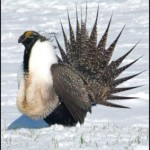 The Bureau of Land Management and the U-S Forest Service are extending the public comment period on issues to be addressed in the Environmental Impact Statements on sage-grouse management plans.  The agencies are trying to make sure all important issues are addressed in the Statements, to provide greater conservation measures for the bird.  The idea is to keep the sage grouse off the endangered and threatened species list.  While a judge has ruled the bird seems to warrant protection, there are other species that need addressed first.  In the meantime, land use managers and conservationists are doing what they can to restore numbers and keep the bird off the list.  The public comment period has been extended for another 45 days.  If you'd like to comment, you'll find a link to the instructions here.
STATE LAWMAKERS WORK TO SAVE WIND ENERGY CREDITS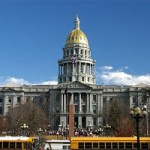 Colorado lawmakers from both parties are trying to save a federal incentive for the wind industry.  Eight members of the congressional delegation signed a letter yesterday asking for an extension of the wind energy production tax credit. A conference committee is negotiating the fate of the credit, which is due to expire at the end of the year.  Rep. Doug Lamborn of Colorado Springs is the only delegation member who didn't sign on.  The credit helps offset the cost of electricity production during a wind farm's first 10 years.  Colorado lawmakers say it's helped drive economic growth in Colorado in the wind industry.  Wind-turbine maker Vestas has three plants in Colorado and says it could cut jobs in the United States if Congress fails to extend the tax credit.
B.L.M. LOOKING TO LEASE PASTURE FOR WILD HORSE AND BURRO PROGRAM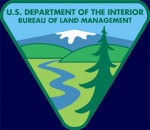 The Bureau of Land Management is looking to lease pasture from the public for it's Wild Horse and Burro Program.  As part of the agency's management responsibilities, the BLM is soliciting bids for new, publicly accessible pasture facilities that would provide a free roaming environment.  They're looking for at least one long-term pasture facility that can accommodate 400 to 2,000 wild horses.  Each facility must be able to provide humane care for a one-year period, with renewal options.  The BLM's bidding requirements are posted in solicitation L12PS00118, the details of which are available here.
A 2ND OIL AND GAS SYMPOSIUM IS SCHEDULED FOR NEXT MONTH IN HAYDEN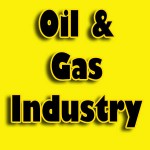 Organizers have planned a 2nd Oil and Gas Symposium in Hayden for next month.  New speakers are being recruited for the event, which is being billed as a balanced approach to the understanding of oil and gas development in Colorado.  Yampa Valley Data Partners and the Community Agriculture Alliance are the sponsors of the event.  The symposium will be held March 14th at 5:30 at Hayden High School.

In high school sports:
Yesterday:
In basketball:
The Moffat County boys beat Basalt.
The Soroco girls topped Vail Christian, while the boys lost.
In hockey:
Steamboat defeated Columbine.