SALAZAR ANSWERS TO PROTESTERS AT MONUMENT RIBBON CUTTING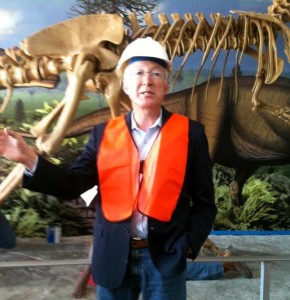 A group of silent protesters made a statement at the Quarry Visitor Center ribbon cutting ceremony yesterday morning at Dinosaur National Monument. Wearing hard hats and "I love drilling" t-shirts, their presence served as a visual message to Secretary of the Interior, Ken Salazar, that jobs related to oil and gas development remain an urgent issue to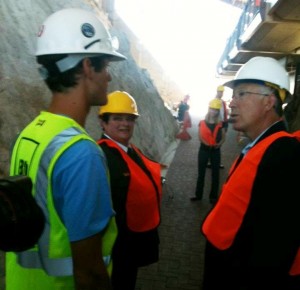 many residents in the Uintah Basin and surrounding area. As the key note speaker during the ceremony, Salazar addressed the protesters specifically saying he believes there can be a co-existence between oil and gas development and conservation. However, he pushed the conservation portion. Salazar emphasized throughout his speech that conservation efforts like the Dinosaur National Monument project create jobs and stabilize local economies. However, protesters reminded him that local areas thrive on tourism and oil and gas development, and need both to survive. Salazar also stated that royalties from the oil industry are owed to the Land and Water Conservation Fund in the amount of 17 billion dollars, a situation he calls "a broken promise to America." But local oil field worker and silent protester Mickey Allred downplayed that, saying, "we send our tax dollars and the oil industry sends their tax dollars. What the government does with them is not the oil industry's problem." Pictured: Ken Salazar  (Thanks to radio station KVEL for photos and help with this story)
STEAMBOAT ANNOUNCES CHOICE FOR NEW DEPUTY CITY MANAGER

A new Deputy City Manager has been named in Steamboat.  Wendy Dubord announced last week that she is retiring after 18 years.  Finance Director Debra Hinsvark will replace Dubord starting October 9th.  She'll keep her finance position, as it's common for the Deputy City Manager to have another director role.  Hinsvark was selected through an in-house recruitment and interviewing process supported by the City Council.  She says she is looking forward to the new position.  Dubord has said she and her husband will keep their home in Steamboat, but plan to travel for a while after her retirement is official.
EPA URGED TO RETHINK PROPOSED RULES FOR AIR POLLUTION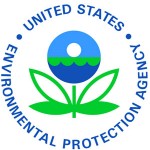 The energy industry asked the Environmental Protection Agency yesterday to take more time to rethink its proposed rules for limiting air pollution at oil and gas wells.  Environmental groups attending a public hearing in Denver on the proposal, though, argue it could go further.  The meeting is the second of three on the agency's plan, which includes what would be its first regulations for wells that are hydraulically fractured by blasting water, chemicals and sand underground.  Dozens of people spoke Tuesday at a hearing in Pittsburgh. Dozens more were registered to speak in Denver as well as in Arlington, Texas today.  The EPA published its proposal following a lawsuit in 2009 by citizens groups that said the agency had let existing rules languish instead of periodically reviewing them as required by the Clean Air Act.  The new rules would focus on having operators capture and sell natural gas that now escapes into the air.
OVER 100 PEOPLE ARRESTED IN FEDERAL IMMIGRATION STING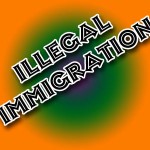 Immigration officials say 102 people have been arrested for deportation in Colorado and Wyoming as part of a nationwide roundup.  The Obama administration yesterday announced the arrest of about 2,900 immigrants across the country. The director of Immigration and Customs Enforcement said each had at least one criminal conviction.  Agents working for ICE's Denver region arrested 96 people in 25 cities in Colorado as well as six people in Wyoming.  Most of the arrests were along Colorado's Front Range and included people convicted of sexually exploiting children, theft and drug possession.  The week long roundup came just a month after Homeland Security Secretary Janet Napolitano announced that immigration officials would focus enforcement efforts on serious criminals and delay deportation cases for most non-criminal immigrants who don't pose a threat.
RESIDENTS HAVE UNTIL MONDAY TO MAKE SURE THEY'RE REGISTERED TO VOTE

Monday is the last day to register to vote in the November General Election.  This year's election will be an all-mail ballot.  The ballots will be sent out starting October 11th, but if you want to get one, you must make sure you're registered, and active.  Those that aren't sure about their status, or want to register or update their records can do so online by clicking here.  You can also visit your county's clerk and recorder's office.
FALL COLORS CAN BE VIEWED AT COLORADO STATE PARKS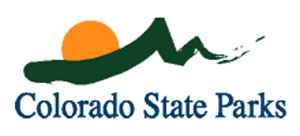 Colorado State Parks says the next few weeks will be ideal for viewing fall colors.  Fall foliage can serve as beautiful displays of nature's colors, and the fall in Colorado's high country can be stunning.  State Parks says some of the best viewing can be done at their parks, which offer trails for hiking, biking, and horseback riding.  However, they remind visitors that the season of color changes is a short one, and the next few weeks will provide some of the best views.
HAYDEN HOMECOMING IN FULL SWING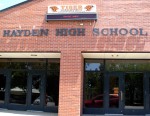 Homecoming activities continue at Hayden High School.  Today is "Duck Tape" Day, where students will dress in creative ways, using duct tape.  The Powder Puff Football Game is at 7 tonight, followed by the bonfire at 8:15.  Tomorrow is Black and Orange Tiger Spirit Day.  Students are expected to dress in school colors.  The Battle of the Classes, which includes competitions like the Knowledge Bowl, Dodge Ball and the Physical Challenge, takes place all morning.  The Parade starts at 1 tomorrow, and the pep rally will follow at 2 in the football stadium.  There will be a tailgate party starting at 5, which precedes tonight's football game.  Royalty will be crowned at half time.  The Homecoming dance is Saturday.
IN HIGH SCHOOL SPORTS:                               
TODAY:
IN VOLLEYBALL:
LITTLE SNAKE RIVER VALLEY HOSTS ENCAMPMENT AT 5:30.
MOFFAT COUNTY WELCOMES STEAMBOAT AT 6.
IN BOYS SOCCER:
MOFFAT COUNTY HOSTS EAGLE VALLEY AT 4.
TOMORROW:
IN FOOTBALL:
HAYDEN WELCOMES PAONIA FOR THEIR HOMECOMING GAME AT 7.
MEEKER HOSTS LAKE COUNTY AT 7.
STEAMBOAT HEADS TO DELTA AT 7.
RANGELY IS HOME AGAINST HOTCHKISS AT 7.
SOROCO TRAVELS TO JUSTICE AT 7.
LITTLE SNAKE RIVER VALLEY PLAYS AT H-E-M AT 3.
IN VOLLEYBALL:
MEEKER GOES TO PAONIA AT 6.
LITTLE SNAKE RIVER VALLEY HEADS TO THE GREYBULL INVITE.
IN BOYS SOCCER:
STEAMBOAT HOSTS JEFFERSON ACADEMY AT 6.
IN CROSS COUNTRY:
RANGELY RUNS AT FRUITA MONUMENT.