KEN SALAZAR TO TOUR NEW DINOSAUR MONUMENT VISITOR'S QUARRY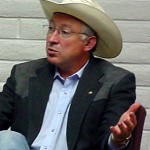 Interior Secretary Ken Salazar will be in Northwest Colorado next week.  Salazar will attend the ribbon cutting at the Dinosaur National Monument's Visitor's Quarry.  After the ribbon cutting, the Secretary will tour the facility, which has been rebuilt after the old building was deemed structurally unsafe.  While the ribbon cutting is open to the public, the tour will be limited to Salazar, representatives of the Monument and media.  The event is Wednesday at 10.
STEAMBOAT DEPUTY CITY MANAGER WENDY DUBORD RETIRING

Steamboat's Deputy City Manager is retiring after 18 years.  Wendy Dubord has stepped in three times as acting City Manager, when John Roberts was incapacitated.  The latest was this past winter when Roberts was hospitalized for a lengthy time, recovering from injuries he suffered in a skiing accident at Steamboat.  She moved to Colorado for college in 1971, and doesn't plan to leave.  A press release says while she and her husband plan to do some traveling, they will continue to call Steamboat home.  The public is invited to her retirement party next week.  It will be Thursday evening at 5:30 at Haymaker Golf Course.  There will be appetizers and a cash bar.  There is no need to RSVP.
TIPTON WELCOMES VETERANS ON HONOR FLIGHT IN WASHINGTON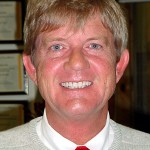 Congressman Scott Tipton was in Washington yesterday to welcome those from the Western Slope Honor Flight.  The flight takes World War Two veterans to Washington to see the memorials that have been dedicated in their honor.  Some of those taking the trip may never have seen the memorials had it not been for the flight, as the veterans expenses are covered.  Tipton honored the flight's founder Kevin Wodlinger with a Congressional Tribute, while thanking the veterans themselves for their service.  Senator Michael Bennet was also there.  This week's flight is the final one.
MEEKER FALL FESTIVAL SHOWCASES NON-PROFITS
The Meeker Fall Festival is tomorrow.  The festival showcases non-profits in the area, and acts as a fundraiser for those groups.  The event is sponsored by Mountain Valley Bank, White River Electric Association and others.  There will be plenty of food, activities and entertainment, including music provided by Total Entertainment.  Those that show up will get a few free wooden "bank bucks" to use towards the purchase of food and activities, and those that bring non-perishable food donations will get a few more.  The "bank bucks" will also be available for purchase.  The festival starts at 11 tomorrow morning in the Mountain Valley Bank parking lot.
SOROCO WRAPS UP HOMECOMING THIS WEEKEND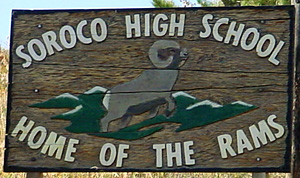 Soroco High School wraps up Homecoming events over the next couple of days.  The theme is "Rock Star".  Today is School Spirit Day, where students are encouraged to dress in the school's colors of maroon and white.  There will be a pep rally in 7th hour.  Royalty will be crowned at halftime of tonight's football game.  The homecoming dance will be tomorrow in the Middle School auditorium.  It runs from 8:30 to 11:30 and costs $5 per person.
CRAIG CHAMBER WANTS YOUNG PROFESSIONALS TO ATTEND SUMMIT IN STEAMBOAT NEXT MONTH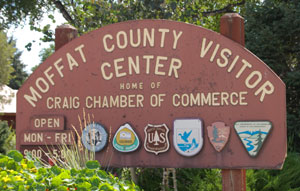 The Craig Chamber of Commerce is willing to pay the fee for a Young Professional to attend a summit in Steamboat next month.  The Rocky Mountain Young Professionals Summit offers inspirational and educational seminars, while allowing young professionals from the region to connect and network.  The focus will be on "Life-work Balance".  If you're interested in attending the summit, call the Craig Chamber.  It will be held October 7th and 8th at the Steamboat Holiday Inn.
IN HIGH SCHOOL SPORTS:                               
YESTERDAY:
IN VOLLEYBALL:
STEAMBOAT BEAT GLENWOOD.
TODAY:
IN FOOTBALL:
SOROCO HOSTS VAIL CHRISTIAN AT 7 IN THEIR HOMECOMING GAME.
HAYDEN GOES TO MIDDLE PARK AT 7.
STEAMBOAT TRAVELS TO EAGLE VALLEY AT 7.
MEEKER HEADS TO FRUITA MONUMENT.
MOFFAT COUNTY HOSTS DELTA.  YOU CAN CATCH THAT GAME LIVE ON (93-7/102-3) KRAI WITH THE PRE-GAME AT 6:45 AND THE KICK-OFF AT 7.  YOU CAN ALSO LISTEN ONLINE AT KRAI.COM.
IN VOLLEYBALL:
SOROCO WELCOMES VAIL CHRISTIAN AT 5:30.
HAYDEN HEADS TO WEST GRAND AT 5.
MEEKER IS HOME AGAINST PLATEAU VALLEY AT 6.
TOMORROW:
IN FOOTBALL:
RANGELY IS ON THE ROAD TO PLAY GRAND JUNCTION'S J-V SQUAD AT 11.
LITTLE SNAKE RIVER VALLEY HEADS TO MEETEETSE AT 2.
IN VOLLEYBALL:
MOFFAT COUNTY HOSTS GLENWOOD AT 1.
MEEKER GOES TO NORTH PARK AT 1.
HAYDEN WELCOMES RANGELY AT 3.
LITTLE SNAKE RIVER VALLEY PLAYS AT H-E-M AT 1.
SOROCO HOSTS A TRIANGULAR WITH WEST GRAND AND VAIL MOUNTAIN AT 9.
IN BOYS SOCCER:
MOFFAT COUNTY HEADS TO PALISADE AT 1.
STEAMBOAT TRAVELS TO CENTAURUS AT 9.
IN CROSS COUNTRY:
MOFFAT COUNTY HOSTS AN INVITATIONAL AT 9 WITH STEAMBOAT AND RANGELY ATTENDING.