POWER OUTAGE AFFECTS NEARLY 675 CRAIG CUSTOMERS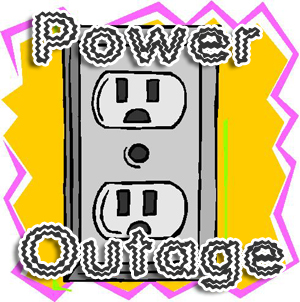 A power outage in Craig yesterday affected around 675 customers.  Yampa Valley Electric Association officials say a squirrel was the culprit, causing a transformer to blow at Ledford and Steele (steel) Streets.  The outage took out customers from Finley Lane to Yampa Avenue, and from 13th Street to Victory Way.  It started a little after 3 and crews had all but a few customers back on within 45 minutes.  Those remaining few were back on an hour later, when the transformer was replaced.
MENTAL HEALTH CONFERENCE WILL BE HELD IN STEAMBOAT SATURDAY
A conference in Steamboat this weekend will focus on mental health issues.  The event is sponsored by many in the health community, including Yampa Valley Medical Center, mental health organizations, and suicide prevention groups.  The group Reaching Everyone Preventing Suicide is using a $10,000 grant to put on the event, which will be filled with speakers from the industry.  Although the conference will be filled with health experts, organizers insist the public is more than welcome.  The conference will be held at the Steamboat Sheraton from 8 to 5 Saturday.
STAGECOACH STATE PARK CELEBRATES NATIONAL PUBLIC LANDS DAY WITH A VOLUNTEER EVENT
OAK CREEK, CO. – Stagecoach State Park will host a volunteer event for National Public Lands Day on Saturday, Sept. 24 from 10 a.m.- 2 p.m. Volunteers will help clean up litter from the shorelines, vacant camp sites, and trails. Snacks and beverages will be provided and volunteers will receive an appreciation gift for their efforts.
National Public Lands Day is the nation's largest hands-on effort to improve and enhance the public lands that all Americans enjoy. This event follows the four key values – health, family, fun and stewardship – that guide the "Let's Move Outside" initiative that was launched by First Lady Michelle Obama and led by the Department of the Interior, and the U.S. Forest Service.
Volunteer events are a great opportunity to spend some time outdoors with your friends and family taking care of the places you love.  For more information on volunteering for the 3rd annual NPLD event at Stagecoach State Park, please call the park office at 970-736-2436.
Located in the verdant Yampa Valley of northwest Colorado, Stagecoach State Park offers visitors a wonderful area to enjoy Colorado's outdoors.  Centered on a 829-acre reservoir with a full-service marina, Stagecoach State Park offers amazing fishing both on the reservoir and in the Yampa River tail waters. The convenience of additional recreation opportunities and the family atmosphere makes Stagecoach State Park a wonderful vacation destination. Additional information on Stagecoach State Park is available at: www.parks.state.co.us/Parks/Stagecoach.
ROUTT COUNTY ROAD 21 CLOSED FOR CULVERT REPLACEMENT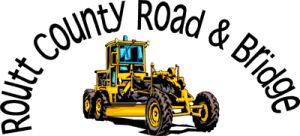 A Routt County Road is closed to motorists and Road and Bridge finishes up a project there.  The department is replacing a culvert next to Routt County Road 21, and don't expect to be finished until sometime this afternoon.  The road is located North of Yampa.  If you have questions call the Routt County Road and Bridge Department.
COLORADO SCHOOLS ENCOURAGED TO CELEBRATE INTERNATIONAL WALK TO SCHOOL DAY AS FIRST STEP IN CREATING SAFE ROUTES TO SCHOOL PROGRAM

The Colorado Department of Transportation (CDOT) is welcoming schools to participate in Walk to School Day on Wednesday, October 5, 2011, as part of Colorado Pedestrian Month.
Communities around the U.S. have been celebrating Walk to School Day since 1997. Around the globe, International Walk to School Month brings together more than 40 countries in recognition of the common interest in walking to school.
Participation in Walk to School events gives schools a chance to increase the number of children walking safely to school, thus promoting the Safe Routes to School (SRTS) program.  Participation in Walk to School Day 2010 reached a record high with more than 3,500 events registered from all fifty states, the District of Columbia and, for the first time, Puerto Rico. Many more communities held events but did not register.
Schools are encouraged to register their 2011 event at www.walktoschool.org. This website may also be accessed to view and get information on the Walk to School events occurring across Colorado.
Walk to School events work to create safer routes for walking and bicycling and emphasize the importance of issues such as increasing physical activity among children, pedestrian safety, reducing traffic congestion, and building connections between families, schools and the broader community.
"Walking and bicycling to school enhances the health of kids, improves air quality and helps the environment," says CDOT Safe Routes to School Program Manager Marissa Robinson. "Walk to School events are aimed at bringing forth permanent change to encourage a more pedestrian-friendly Colorado, one community at a time."
CDOT is now accepting funding requests for the 2012 SRTS program.  SRTS includes both education and improved infrastructure to make local routes safer for children to walk or bike to school. Successful programs involve the whole community and encompass evaluation, encouragement, education, enforcement, and engineering.
To date, nearly $12 million has been distributed to Colorado communities to help more children bike and walk to school through the SRTS program. The program is 100 percent federally-funded and managed by CDOT.
PARADE ENTRIES SOUGHT FOR MOFFAT COUNTY HIGH SCHOOL HOMECOMING
Moffat County High School will celebrate Homecoming the week of October 3rd, and they're looking for anyone who might want to join their parade.  The parade is scheduled for Friday October 7th.  The theme is "Under the Sea".  Parade entry forms can be picked up in the first floor office of the high school any time.  The entry fee is $25 for school floats and $30 for non-school floats.  The entry forms need to be returned to the 2nd floor office by Tuesday October 4th.  If you have questions call DeLaine Brown at 826-6555.
PUBLIC INVITED TO COMMUNITY POT LUCK AND BARN DANCE
The public is invited to a community barn dance tomorrow night at the Hayden Granary.  Organizers say this will be their last dance of the summer, and there is no charge to attend.  It includes a potluck supper and a presentation from the Colorado Art Ranch's Artists in Residence.  The supper starts at 6:30, with the presentations and dance to follow.  The event is expected to last until 11.  For more information call the Hayden Granary.
SOROCO HOMECOMING EVENTS CONTINUE THIS WEEK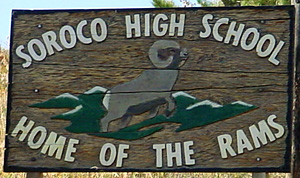 Soroco High School students continue their homecoming celebrations this week.  The theme is "Rock Star".  Today is Dress Like a Rock Star Day.  The lunchtime activity is a Guitar Hero competition.  The Powder Puff Football game starts at 7, with the bonfire at 8.  Tomorrow is Spirit Day, where students are expected to dress in the school's colors of maroon and white.  There will be a pep rally during 7th hour, and crowning of royalty will take place at halftime of the football game.  The dance will be held Saturday night.
IN HIGH SCHOOL SPORTS:                               
TODAY:
IN VOLLEYBALL:
STEAMBOAT GOES TO GLENWOOD AT 6:30.
IN BOYS SOCCER:
MOFFAT COUNTY HEADS TO CENTRAL HIGH SCHOOL AT 4.
IN BOYS TENNIS:
STEAMBOAT HOSTS COLORADO ACADEMY.
TOMORROW:
IN FOOTBALL:
SOROCO HOSTS VAIL CHRISTIAN AT 7 IN THEIR HOMECOMING GAME.
HAYDEN GOES TO MIDDLE PARK AT 7.
STEAMBOAT TRAVELS TO EAGLE VALLEY AT 7.
MEEKER HEADS TO FRUITA MONUMENT.
MOFFAT COUNTY HOSTS DELTA.  YOU CAN CATCH THAT GAME LIVE ON (93-7/102-3) KRAI WITH THE PRE-GAME AT 6:45 AND THE KICK-OFF AT 7.  YOU CAN ALSO LISTEN ONLINE AT KRAI.COM.
IN VOLLEYBALL:
SOROCO WELCOMES VAIL CHRISTIAN AT 5:30.
HAYDEN HEADS TO WEST GRAND AT 5.
MEEKER IS HOME AGAINST PLATEAU VALLEY AT 6.