OFF HIGHWAY VEHICLE GROUPS LOOK TO PUT TRAILS ON AN OFFICIAL MAP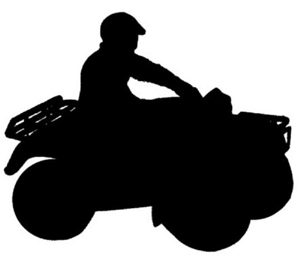 Off Highway Vehicle groups from three different counties want to map rideable areas for their members and other users.  A group in Moffat County has initiated the process, recruiting recreationalists from Rio Blanco County and Uintah County,Utah.  The idea is to create a map of trails and other areas open to OHV use within the three counties.  The information would be available to everyone.  Group members feel it would be a valuable resource for those visiting the areas, as well as those who use the trails regularly.  Representatives of the three counties will meet Tuesday to discuss the plan.  They are also gathering support from local governments, land use experts, tourism officials and the public.
MOFFAT COUNTY COMMISSIONERS CONSIDER INCREASING REVENUE THROUGH MODEL TRAFFIC CODE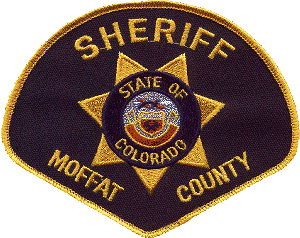 The Moffat County Commissioners have been asked to consider adopting traffic laws into their model traffic code.  The move was partially made a couple of years ago, but there are still citations issued by the Moffat County Sheriff's Office, in which the fines go straight to the state Department of Revenue.  By adopting the rest of the code, that money would be redirected to local coffers.  Sheriff Tim Jantz says while this is a way to keep money in Moffat County, it doesn't mean they would be writing more tickets.  He says the only thing that would change would be the county's revenue.  He says in hard times, the county needs to do what they can to keep their dollars from leaving the community.  The commissioners have agreed to look into adopting the rest of the code and will revisit the issue at a later meeting.
BENNET APPLAUDS REPEAL OF "DON'T ASK-DON'T TELL"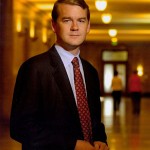 Senator Michael Bennet, a champion of gay rights, has applauded the Pentagon's decision to end the Don't Ask – Don't Tell policy.  Bennet issued a statement yesterday, calling the policy "backwards" and expressing joy that it has been "relegated to the dustbin of history".  He says by scrapping the policy, openly gay men and women can serve without having to hide who they are, and won't have to worry about being discharged due to their sexual orientation.  Bennet was an original co-sponsor of the bill to repeal the policy.  He is also a co-sponsor of the Respect for Marriage Act, a bill to repeal the Defense of Marriage Act.  The Defense of Marriage Act is a federal bill defining marriage as union between one man and one woman.  It also gives states the freedom to deny recognition of gay marriage in other states.
STATE STILL IN STORE FOR ANOTHER HALF BILLION DOLLARS IN CUTS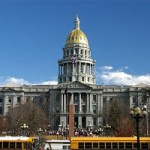 The governor's budget director says lawmakers will likely have to cut $400 million to $500 million next year as the state continues to try to dig out of the economic downturn. Henry Sobanet told lawmakers yesterday that they'll face another difficult budget cycle because the state's revenue is not keeping up with increased demand for services like health care, education and public safety. A separate report from legislative economists warned that "chances of a recession are rising" as households and business continue to be unsure about the weak economy. Sobanet's office estimates that Colorado's general fund revenue will grow by about $57.8 million in the current year. That would be a 0.8 percent increase from last year.  Colorado lawmakers adopted a budget this spring to close a shortfall that hovered near a half-billion.
SOROCO HIGH SCHOOL CELEBRATES HOMECOMING THIS WEEK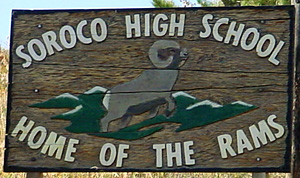 Soroco High School continues homecoming activities this week.  The theme for the week is "Rock Star".  Today is Dress Like a Teacher Day.  The Chili Cook-off is tonight at 5.  A Power Volleyball game will follow at 7.  Tomorrow is Dress Like a Rock Star Day.  There will be a Guitar Hero competition at lunch.  The Powder Puff Football Game is at 7 tomorrow night, with a bonfire to follow at 8.  Royalty will be crowned at halftime of Friday's football game, and the dance will be held Saturday night.
VETERANS AFFAIRS EXPANDS ELIGIBILITY FOR AGENT ORANGE COVERAGE
The Veterans Affairs Medical Service in Grand Junction has announced that those who served on the Korean DMZ from April of 1968 to August of 1971 are now eligible for enrollment into V-A provided health care.  Until the announcement, only veterans with boots on the ground in Vietnam and certain surrounding countries were eligible under the Agent Orange Exposure Program.  Those that believe they are now eligible can request an enrollment form from the Grand Junction office.  The V-A has 15 conditions that are automatically service-connected for relation to Agent Orange exposure.  The three most common are Type 2 Diabetes, Ischemic Heart Disease, and Prostate Cancer.  The contact number is (970) 263-5019.
IN HIGH SCHOOL SPORTS:                               
YESTERDAY:
IN BOYS SOCCER:
STEAMBOAT BEAT GLENWOOD.
MOFFAT COUNTY FELL TO BATTLE MOUNTAIN.
IN BOYS GOLF:
STEAMBOAT'S ERIC SORBEK QUALIFIED FOR THE STATE TOURNAMENT AT YESTERDAY'S REGIONALS IN RIFLE.
TOMORROW:
IN VOLLEYBALL:
STEAMBOAT GOES TO GLENWOOD AT 6:30.
IN BOYS SOCCER:
MOFFAT COUNTY HEADS TO CENTRAL HIGH SCHOOL AT 4.
IN BOYS TENNIS:
STEAMBOAT HOSTS COLORADO ACADEMY.