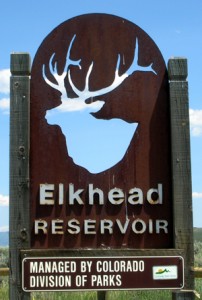 WATER RELEASED FROM ELKHEAD RESERVOIR TO BENEFIT FISH
A large amount of water will be released from Elkhead Reservoir over the next few days.  The Upper Colorado River Endangered Fish Program has asked for the release.  About 350 cubic feet per second will be released over the next four days to support a sustained flow of 1,000 cfs in the Yampa River at Maybell.  The water will take about 24 hours to get there, and all releases from the reservoir will be through screened outlets, preventing the escape of non-native fish.  The river is expected to stabilize again by the middle of next week.  Boating and fishing at the reservoir are not expected to be affected, although the water level is expected to drop 3 feet by the end of the release.

HAYDEN MIDDLE SCHOOL GYM IS BEING DEMOLISHED
The Hayden Middle School Gym is being demolished.  The gym was condemned two yeras ago, but is finally coming down this week.  Asbestos and crumbling walls were the reason it was condemned.  The school district has no immediate plans to replace the gym.  District officials say there is simply no money to replace it now, although they hope to be able to replace it in the future.  The demolition will cost the district up to $115,000, while repairs would have cost over $150,000.  The demolition is expected to be finished by the time school starts September 6th.
FREEDOM CONFERENCE STARTS TOMORROW NIGHT IN STEAMBOAT
Steamboat's Freedom Conference starts tomorrow night.  The conference is intended to give people an understanding of the issues in the upcoming election, so they can make good decisions.  Tomorrow night's keynote speaker is Jonah Goldberg, columnist for the National Review Online.  Events take place tomorrow and Saturday in various locations in Steamboat, including the ski area, and the Steamboat Grand.
WATER AND ENERGY CONFERENCE TO ATTRACT BUSINESS LEADERS FROM AROUND THE STATE
STEAMBOAT SPRINGS – The Colorado Water Congress, a leading voice in Colorado's water community, and Colorado Coal and Power Generation, representing major coal providers, power suppliers and local governments, are joining forces August 23-25, 2011 to present Colorado's only professional conference of the year to focus on the combined water and energy sectors.  Water and Energy, Meeting Today's Challenges and Tomorrow's Opportunities, will be held at the Sheraton Steamboat Resort, and is anticipated to attract more than 200 participants from around the State.
Conference topics will include subjects such as Emerging Colorado Legislation, Does the Price of Water Reflect the Value of Water, Fracking and Protection of Groundwater, and an Oil and Gas Regulation Overview.  Another highlight will be Keynote Speaker Congressman Corey Gardner, who sits on the Congressional Subcommittee for Energy and Power.
The Colorado Coal and Power Generation group represents a cooperative effort by major coal producers, power-suppliers, local governments, and related businesses to provide relevant information and a practical perspective on current and future energy requirements, options, and economics, as well as associated challenges and opportunities.
The Colorado Water Congress is a statewide advocacy organization that includes more than 350 member organizations representing all aspects of water management and protection. In addition to two major annual conferences, professional development opportunities and networking, they offer a forum for legislators to share water-related legislation, and shape that legislation among a coalition of organizations representing the broad interests of the  Colorado water community.
To register and for more information, go to cowatercongress.org or nwcolocoal.com.  Additional information is available by contacting Meg Meyer (meg@cowatercongress.org) Colorado Water Congress at 303-837-0812, or Gena Hinkemeyer (gena@nwcolocoal.com) Colorado Coal and Power Generation at 970-326-6930.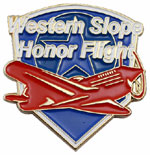 HONOR FLIGHT ACTIVELY SEEKING WWII VETERANS FOR FINAL FLIGHT

The Western Slope Honor Flight (WSHF) is continuing to actively search for WWII Veterans for their final flight to Washington, D.C. on September 21 and 22, 2011.  Seats are still available for those WWII Veterans from the Western Slope of Colorado and Eastern Utah interested in visiting the memorials built and dedicated in their honor.  The WSHF Board is asking the community to help in our search to escort these American heroes to their place of honor.  The application for WWII Veterans can be accessed at the DAV office at the VA Medical Center; www.Westernslopehonorflight.com or by calling Kris Baugh at (970) 434-2916.  Applications are to be mailed to:  Western Slope Honor Flight, P.O. Box 3950, Grand Junction, CO  81502.  The trip is absolutely free for Veterans.  This upcoming trip will be Western Slope Honor Flight's final journey and will have transported over 500 WWII Veterans.
OIL AND GAS SYMPOSIUM WILL BE HELD NEXT MONTH IN HAYDEN
The Northwest Colorado Oil and Gas Symposium for Moffat and Routt Counties is next month.  The symposium is used to increase public awareness and knowledge of oil and gas production, along with educating surface and mineral rights owners.  Senator Jean White will moderate the event.  There will be a number of guest speakers talking about the energy industry, landowner perspectives, economic impacts, and other related subjects.  The symposium will be held September 7th from 5:30 to 9 at the Haven in Hayden.  Tickets are $20 a piece, and reservations need to be made by September 1st.  Remember to RSVP to Community Agriculture Alliance at 970-879-4370 by September 1st.