CEDAR MOUNTAIN FIRE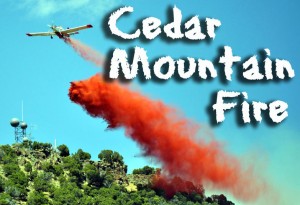 A fire on Cedar Mountain north of Craig that threatened communication towers this afternoon is expected to be fully contained by tomorrow afternoon.  Lynn Barclay of the Craig Inter-agency Dispatch Center says the towers that allow communication between law enforcement and other emergency personnel were threatened, along with others.  The fire also required Yampa Valley Electric to de-energize the power lines on Cedar Mountain, taking the 93-7 102-3 KRAI transmitter off the air.  The Moffat County Sherriff's Department fie investigator told us he is not exactly sure of the cause of the fire which started on property owned by Jackie Balleck.  The blaze coverd over 75 acres of mostly BLM land.  Air tankers responded and dropped a number of loads of fire retardant to support the fire fighters from Craig Fire/Rescue, Moffat County, and the BLM.  You can see pictures of the blaze, the air drops and the aftermath in the photo gallery above.
TODDLER IN RIVER

Another toddler fell into a river in Steamboat over the weekend.  Police haven't identified the two-year old boy, but say he apparently wandered away from his parents near the Yampa River in west Steamboat when they were distracted.  He was found about 150 yards from where his parents were.  The boys dad pulled him out of the river and performed CPR.  He took the boy to Yampa Valley Medical Center, and the boy was then flown to Denver.  Reports say he is doing well now, and will be released from the hospital later today.  Earlier this year, 15-month old Edwin Rodriguez fell in Brush Creek, and was hospitalized.  That boy is also doing better now, and has since been released.
LEFTOVER LICENSES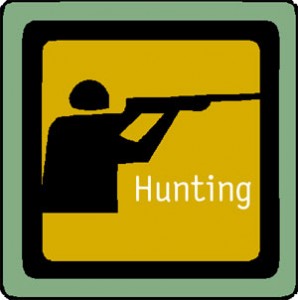 Thousands of big game hunting licenses that did not sell during the license application and draw process will go on sale to the public at 9 a.m., Tuesday, Aug. 9 at wildlife offices and Colorado Parks and Wildlife license retailers statewide.  In addition to the approximately 37,000 elk licenses, 7,300 deer licenses and 7,200 pronghorn licenses that will be available, more than 120 leftover fall turkey licenses will also go on sale to the public that morning.
Leftover license day is one of the biggest one-on-one sales days for wildlife offices. Long lines for some of the more sought-after licenses begin forming early at many wildlife offices. Hunters can find a list of wildlife offices (http://wildlife.state.co.us/About/OfficesAndPhone/OfficesMap.htm) and license retailers (http://wildlife.state.co.us/ShopDOW/AppsAndLicenses/LicenseAgents/LicenseAgentList.htm) on the wildlife side of the Colorado Parks and Wildlife website.  "In the past, we had people camping out at our offices to get the first spots in line," said Henrietta Turner, Wildlife License Administration Manager for Colorado Parks and Wildlife. "Things are less crowded since people can now go to sporting goods stores and other license agents or buy licenses over the phone."  License purchasers who are out of state or unable to get to a license agent can call the toll-free license sales number, 1-877-244-5613, beginning at 9 a.m. on Aug. 9. It is important to note that online purchasing of leftover licenses is delayed by one day to keep distribution fair. Internet sales of leftover licenses do not begin until Wednesday, Aug. 10.  A complete list of leftover licenses that go on sale Tuesday, Aug. 9 is available online at http://wildlife.state.co.us/hunt/BigGame/pdf/leftover.pdf.  Hunters planning to purchase a leftover license should come prepared with their driver's license, hunter education card and social security number (required under state law). Hunters interested in purchasing private-land-only licenses must obtain permission from landowners before they can hunt on private land.
CNCC RIBBON CUTTING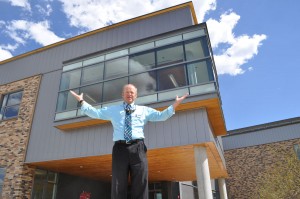 The dozens of politicians and academics in attendance were well outnumbered by the hundreds of others who attended the dedication, ribbon cutting and open house at the new Craig campus of "Colorado Northwestern Community College" yesterday afternoon.  Construction at the new campus site begin 18 months ago on the 14,000 square foot Career Technical Building, which will house the Power Plant Technology, Cosmetology, Massage Therapy, and Industrial Electrician programs. A 70,000 square foot academic building will be home to all of the Craig Campus general academic programs including Nursing. The next construction project planned for CNCC, is the first of a number of 32 bed dormitories. Limited classes begin at the new campus today.   Pictured: VP of Administration, Gene Bilodeau.
NOMINATIONS OPEN FOR WILD HORSE AND BURRO ADVISORY BOARD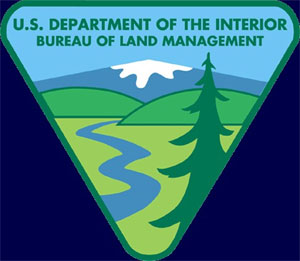 The Bureau of Land Management is requesting public nominations to fill
three positions – which are set to expire on January 8, 2012 – on the
national Wild Horse and Burro Advisory Board.  Nominations are for a term
of three years and are needed to represent the following categories of
interest: wild horse and burro advocacy; veterinary medicine (equine
science); and general public interest (with special knowledge of wild
horses and burros, wildlife, animal husbandry, or natural resource
management).  The Board advises the BLM, an agency of the Interior
Department, and the Forest Service, an agency of the Department of
Agriculture, on the management and protection of wild free-roaming horses
and burros on public lands administered by those agencies.  The BLM
announced its request for nominations in today's Federal Register.
The nine members on the Advisory Board represent a balance of interests.
Each member has knowledge or special expertise that qualifies him or her to
provide advice in one of the following categories: wild horse and burro
advocacy, wild horse and burro research, veterinary medicine, natural
resources management, humane advocacy, wildlife management, livestock
management, general public interest, and public interest (with special
knowledge of wild horses and burros).  Members must also have a
demonstrated ability to analyze information, evaluate programs, identify
problems, work collaboratively, and develop corrective actions.
Any individual or organization may nominate one or more persons to serve on
the Advisory Board; individuals may also nominate themselves.  In
accordance with Section 7 of the Wild Free-Roaming Horses and Burros Act,
Federal and state government employees are not eligible to serve on the
Board, whose members serve three-year terms, on a staggered-term basis,
with one-third of the Board subject to appointment each year.
The Board meets at least two times a year and the BLM Director may call
additional meetings when necessary.  Members serve without salary, but are
reimbursed for travel and per diem expenses according to government travel
regulations.
The BLM is accepting nomination letters plus resumes that include the
nominee's name, address, profession, relevant biographical information,
references, endorsements, and specific category of interest.  Nominations
should be sent by September 22, 2011, to the National Wild Horse and Burro
Program, Department of the Interior, Bureau of Land Management, 20 M
Street, S.E., Room 2134LM, Attn: Sharon Kipping, Washington, D.C. 20003.
Or you may send a fax to Ms. Kipping at (202) 912-7182 or e-mail her at
skipping@blm.gov. If you have questions, please call Ms. Kipping at (202)
912-7263.
The 1971 Wild Free-Roaming Horses and Burros Act mandates the protection,
management, and control of wild horses and burros to ensure healthy
free-roaming herd populations at levels consistent with the land's capacity
to support them.  The BLM manages about 38,500 wild horses and burros that
roam public rangelands in 10 Western states.  (For more details, see the
BLM's Wild Horse and Burro Quick Facts at
http://www.blm.gov/wo/st/en/prog/wild_horse_and_burro/Fact_Sheet.html)
NEW LAWS

A provision to give judges discretion in sentencing criminals and a requirement that the Colorado Department of Transportation come up with a plan to improve traffic on Interstate 70 are among more than 100 new laws going into effect.  Another new law requires state coroners to include in reports whether a deceased woman was pregnant at the time of her death, a measure introduced by Representative Laura Bradford of Collbran.
Bradford said it's an attempt to see if there is a trend in domestic violence attacks against pregnant women and it has nothing to do with abortion.  Another new law extends a deadline to raise private funds to repair the golden dome at the Capitol building. The cast-iron enclosure of the dome has deteriorated so badly that a 10-pound chunk of cast iron fell off in 2007. Public tours of the dome have been limited since then.  The new laws are going into effect 90 days after the end of the session because of a state law that allows voters to challenge any measure not vital to the health, safety and welfare of the state.
ROAD RECONSTRUCTION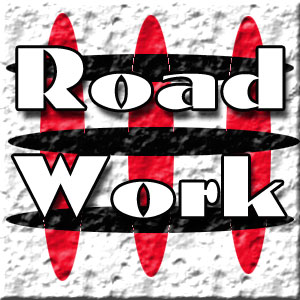 Some major road reconstruction is causing travel issues for anyone taking Colorado Highway 14 over Cameron Pass for the next couple of months.  Just west of the pass, state transportation crews are reconstructing the highway.  There is one lane of alternating traffic during the work, and a 12 foot width restriction on vehicles.  The speed limit is down to 35 miles per hour and a traffic signal is in place, even when crews aren't working.  C-dot has suggested travelers useWyominghighway 230 and Colorado Highways 127 and 125 as alternate routes.  The work is expected to continue through October.
MOFFAT COUNTY FAIR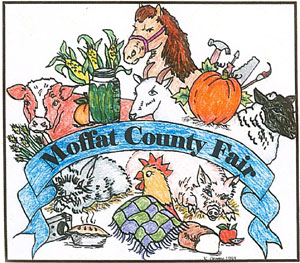 The Moffat County Fair continues this week.  The 4-H Dog show kicks things off this morning at 8.  Awards for the 4-H general and consumer science projects can be viewed from 6 to 8 tonight under the grandstands.  Pavillion entries will be judged tomorrow at 12:30.  The Market lamb show kicks off this year's livestock events at 5 tomorrow afternoon.  For a complete fair schedule, click on the Moffat County Fair logo.