BLM HOSTING COMMUNITY MEETINGS ON SCENIC VALUES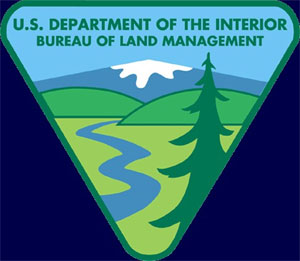 CRAIG, Colo. – The Bureau of Land Management is hosting a series of
community workshops in northwestern Colorado the week of Aug. 8 to hear
from the public about what matters to them most about the scenic views on
BLM lands.  These open house workshops are part of the visual resources inventory BLM is conducting in the Little Snake and White River field offices, which include BLM lands in Moffat, Rio Blanco, and Routt counties, as well as a small portion of Garfield County.  "We use our visual resource inventories to help us evaluate the potential visual impacts of our decisions, such as where to locate energy corridors, oil and gas development, new roads – a wide range of potential actions," said Kent Walter, Field Manager for the White River Field Office in Meeker.  "Hearing from the public about what is important to them about the scenic landscapes on BLM land in these areas is a critical piece of developing this inventory," said Wendy Reynolds, Field Manager for the Little Snake Field Office. The public is invited to stop by any time during any of the workshops. There will be brief presentations at the beginning of the first and second hours. At Craig and Steamboat Springs, BLM will also host an open house to display preliminary results of the multiple workshops held in these two communities.  For additional information, contact the Little Snake Field Office, (970)-826-5000, or the White River Field Office, (970) 878-3000.
August 8, 2011
Location:   Steamboat Springs Community Center
Westside Community Room
1605 Lincoln Avenue
Steamboat Springs, CO 80487
Time:   1:30pm – 3:30pm Workshop
6:00pm – 8:00pm Workshop
Location:   Rangely Recreation Center
MultiPurpose Room
611 Stanolind Avenue
Rangely, CO  81648
Time:   6:00pm – 8:00pm Workshop
August 9, 2011
Location:   Steamboat Springs Community Center
Westside Community Room
1605 Lincoln Avenue
Steamboat Springs, CO 80487
Time:   6:00am – 8:00am Workshop
6:00pm – 8:00pm Summary Open House
Location:   Mountain Valley Bank Community Room
400 Main Street
Meeker, CO 81641
Time:   6:00pm – 8:00pm Workshop
August 10, 2011
Location:   Center of Craig
601 Yampa Avenue
Craig, CO 81625
Time:       1:30pm – 3:30pm Workshop
6:00pm – 8:00pm Workshop
Location:   The Haven Community Center
302 South Shelton Lane
Hayden, CO 81639
Time:   6:00pm – 8:00pm Workshop
August 11, 2011
Location:   Center of Craig
601 Yampa Avenue
Craig, CO 81625
Time:   6:00am – 8:00am Workshop
6:00pm – 8:00pm Summary Open House
Location:   South Routt Community Center
227 Dodge Avenue
Oak Creek, CO 80467
Time:   6:00am – 8:00am Workshop
6:00pm – 8:00pm Workshop
HEAT STROKE FATAL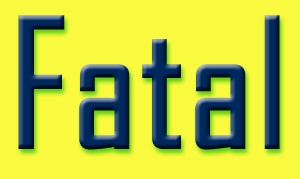 An unidentified Steamboat woman died after falling asleep in the sun for too long.  Routt County officials say the 60-year old died of heat stroke.  Emergency personnel was called to a house on Oak Street late Sunday night, and she was taken to Yampa Valley Medical Center, where she was pronounced dead just after midnight.  The woman had apparently fallen asleep in the sun Sunday afternoon.  Her name is not being released until next of kin is notified.
AIRPORT CONSTRUCTION CONTINUES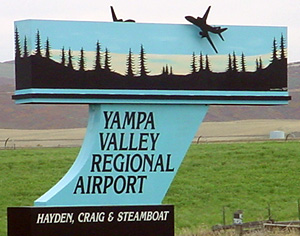 A federal order to halt construction on airport terminal projects is not affecting work at Yampa Valley Regional Airport.  That's according to a statement to local officials made by airport manager Dave Ruppel.  He says YVRA is not on the list of airports required to stop work.  The airport is in the middle of an expansion project.  That project will add a restaurant, offices and more to teh existing terminal.  The shut down is a direct result of Congress' failure to come up with a solution to the debt ceiling fiasco.  Becaus no agreement has been reached, Congress has yet to extend the FAA's funding.  That leaves the FAA in limbo when it comes to financing local projects.
BOATING ENFORCEMENT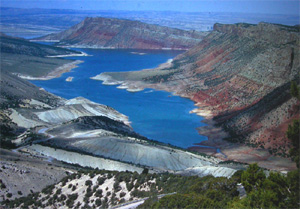 The Sweetwater County Sheriff's Office partnered with the United States Coast Guard, the Daggett County Sheriff's Office, and other agencies in a special lake patrol operation to promote boating safety on Flaming Gorge over the weekend. Sweetwater County Sheriff Rich Haskell said Operation Gorge Rush was carried out July 22-24 on Flaming Gorge. Pairs of coast guardsmen teamed up with federal, county, and state officers on local patrol boats to perform safety checks on the water from Lucerne to Big Firehole.   Haskell said over 240 contacts were made on the water during the operation and nearly 70 boats were boarded by the coast guardsmen and local officers. Over a dozen citations were issued, mostly for safety violations, and a good number of Coast Guard "terminations" were made. Haskell explained that if a serious safety issue is found during a contact, the boat involved is ordered off the water immediately to correct the problem, such as an outdated fire extinguisher or lack of PFDs (personal flotation devices – life jackets), and can only return once the situation is remedied. In Coast Guard parlance, this is called a termination. In addition to the Coast Guard and Daggett and Sweetwater County Sheriff's Offices, the United States Forest Service, and the Utah Division of Wildlife also participated in the event. The Sheriff's Office outlined a series of safe boating tips and the violations law enforcement tends to encounter the most on the water:
•Alcohol-related boating accidents are on the rise and alcohol remains the foremost contributing factor in boating-related deaths.  Boating under the influence of alcohol and/or a controlled substance is illegal and violators are subject to arrest.
•Watercraft must have a wearable U.S. Coast Guard-approved Personal Flotation Device, or PFD, of appropriate size for every person on board the watercraft.  In addition, watercraft 16 feet in length or longer must also have a throwable flotation device, such as a buoyant cushion or ring buoy. Officials say merely having such a device aboard isn't enough – it must be within ready reach if needed.
•All those being towed in the water, whether barefoot or on water skis or other towed devices, must wear a U.S. Coast Guard-approved PFD while engaged in that activity.
•No person may operate or be in actual physical control of a numbered watercraft in Wyoming unless they are at least 16 years old or accompanied by an adult.  This includes jet skis and wave runners.
The complete Wyoming Watercraft Regulations are available online at the Wyoming Game & Fish website at http://gf.state.wy.us/downloads/pdf/Final-2010-2011WatercraftRegs.pdf
Officials said this was Operation Gorge Rush's second year, and hope it becomes a routine annual event.
EMERALD MOUNTAIN PARK WEEDS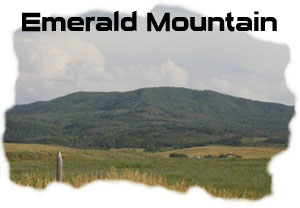 The City of Steamboat is battling noxious weeds in Emerald Mountain Park.  With a grant from the Routt County Conservation District, the park's board of directors has decided to hire a company to take care of the weeds.  The park is said to be full of white top, houndstongue, Dalmation toadflax, and yellow toadflax.  Disucussions are taking place about how to better fight the weed problem.  State law requires property owners to manage noxious weeds within their property.
FRIENDS OF STAGECOACH STATE PARK HOST FREE FUNDRAISING CONCERT JULY 27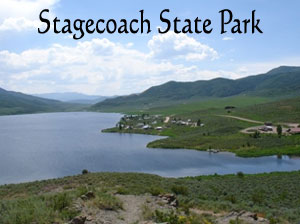 The Friends of Stagecoach State Park are hosting a free fundraising concert on Wednesday, July 27 at the park's swim beach.  The Old River Road Bluegrass Band will be playing from 6:45 p.m. to 8:45 p.m. and a hat will be passed for donations to help support various projects at Stagecoach State Park. Delight your family and friends with an evening of live bluegrass music while sitting on the beach overlooking the beautiful reservoir. Bring camp chairs, blankets, sunscreen, beach toys, and dancing shoes.  Play beach volleyball, beanbag toss, or just relax and snack on s'mores.  The Friends of Stagecoach State Park will be passing a hat for donations to help support environmental education, preservation and a variety of park enhancement projects.  For more information on supporting Stagecoach State Park, visit the website www.parks.state.co.us, email friendsofstagecoach@gmail.com, or call (970) 736-8410.
REDISTRICTING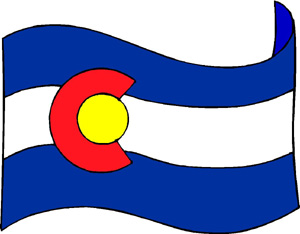 Former Denver Mayor Wellington Webb denounced Republicans Monday for proposed legislative maps he argues dilute minorities' power, ignore constitutional requirements and seek to give the GOP a comfortable lead in the Colorado House. The comments from Webb, a Democrat, are the most critical yet from a member of a bipartisan commission working on the once-a-decade process of drawing new state House and Senate districts to account for population changes.  Both parties are watching closely because the process can influence the Legislature's balance of power for the next 10 years – and Democrats and Republicans have had plenty to complain about what the state redistricting commission has done.