WASHOUT ACCIDENT NEAR SARATOGA KILLS FOUR FROM COLORADO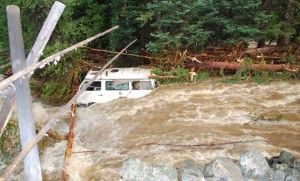 The four people killed, on Wyoming Highway 130 near Saratoga, were all from Colorado Springs.  During storms late Monday night and early Tuesday morning heavy rain caused flash flooding, which prompted emergency responders to start evacuating people from a nearby campground.  Part of the road, about 20 miles from Saratoga, washed out into Brush Creek.  Alex Constantinides was one of those taking his family out of the area, when he hit the washout, rolled his van down an embankment and went into the creek.  His wife Laurel, and his three young daughters Zoey, Hanna, and Lucia were killed in the accident.  Alex is at Carbon County Memorial Hospital in Rawlins.  There's no report on his condition.  While responding to the incident, Carbon County Emergency Manager John Zeiger also got caught in the washout.  His vehicle also rolled down the embankment and wound up in the creek.  Zieger says he got lucky, because his vehicle landed right-side-up, and he sat and waited for over an hour before other emergency workers came to rescue him.  Wyoming 130 is closed until the water recedes and the road can be fixed.
The above photo of the Constantinides' vehicle,  from the scene of the accident, courtesy of the Wyoming Department of Transportation
EMERGENCY LANDING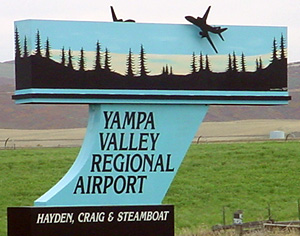 A strange odor forced a passenger flight from Denver to make an emergency landing at Yampa Valley regional Airport yesterday.  Reports say the plane had 36 passengers and three crew members.  None were hurt as the plane landed safely.  It's not clear what caused the odor, which was described as the smell of an electrical fire.  However, no evidence of fire was found upon first inspection.  The passengers were taken back to Denver on a shuttle.  The flight was originally scheduled to land in Los Angeles.
ROOFING PROJECT AT FAIRGROUNDS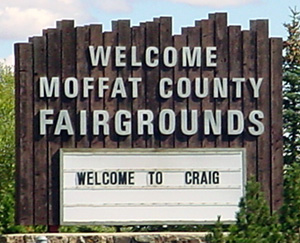 The building under the Moffat County Fairgrounds' grandstands will get a new roof, but not until after this year's fair is over.  The commissioners were hoping to have the work done before the fair began, but neither of the contractors submitting bids could make that deadline.  So the comissioners have pushed back the project, awarding the job to APH Construction for over 87-thousand dollars.  The structure was built 30 years ago, and weather and human use has deteriorated the roof.  Materials for the project will be stockpiled for the next couple of weeks, and the work will start as soon as the fair is over.
COMMISSIONERS FENCING PROJECT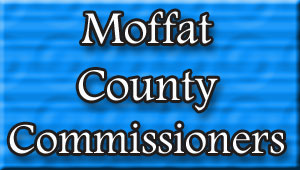 The Moffat County Commissioners yesterday voted to do a make-good for a Hamilton resident.  A couple of months ago, the county put a new water cistern at the Hamilton Community Center.  However, it appears they set it partially on private property.  The owner has agreed to give that part of his property to the county, in exchange for some fence work.  Two section of fence and a gate that have deteriorated will be replaced.  This will allow the county to avoid moving the cistern, or paying cash for the property they infringed on.
NOISE ORDINANCE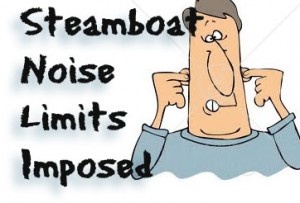 A new rule in Steamboat limits the noise level in Commercial Districts to 60 decibels at night.  The Steamboat City Council gave the measure final approval last night.  The new law is expected to resolve a conflict between commercial establishments and downtown residents, but during the last meeting neither side was very happy with the compromise.  Bar owners that use loud music to entertain and attract patrons say the ordinance will be hard to comply with, while residents say 60 decibels is still too high.  City staff used monitoring equipment for measuring decibel levels downtown, before coming up with acceptable levels.
SALAZAR ANNOUNCES $37.4 MILLION FOR STATE AND LOCAL CONSERVATION AND OUTDOOR RECREATION PROJECTS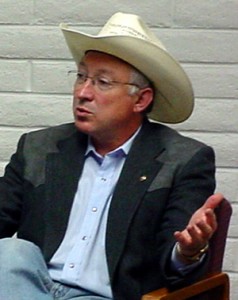 WASHINGTON DC – Secretary of the Interior Ken Salazar today announced $37.4 million from the Land and Water Conservation Fund (LWCF) in state grants to establish and renovate parks and open spaces throughout the 50 States, the Territories and the District of Columbia for Fiscal Year 2011.  LWCF state grant funds are awarded through Federal matching grants that leverage public and private investment in America's state and local public outdoor recreation.
"Outdoor recreation and conservation are engines for our nation's economy, creating jobs and infusing hundreds of millions of dollars into local communities and businesses through activities like hunting and fishing and tourism," Secretary Salazar said.  "LWCF state grants leverage public-private partnerships to support locally-driven conservation efforts, which is at the heart of President Obama's America's Great Outdoors initiative."
The funds will enable State and local governments to establish urban parks and community green spaces; to restore and provide public access to rivers, lakes and other water resources; and to conserve natural landscapes for public outdoor recreation use and enjoyment.
The National Park Service administers the Land and Water Conservation Fund state grant program.  NPS Director Jonathan B. Jarvis said, "The Land and Water Conservation Fund State and Local Assistance Program is the only federal funding source solely dedicated to establishing and providing perpetual protection for a nationwide legacy of local public parks, conservation and recreation areas."
The LWCF was established by Congress in 1964 to ensure access to outdoor recreation resources for present and future generations, and to provide money to federal, state and local governments to purchase land, water and wetlands for the benefit of all Americans.  The primary source of revenue for the Land and Water Conservation Fund is from Federal oil and gas leases on the Outer Continental Shelf.
In addition to state grants, the LWCF funds other programs that support a strong national outdoor recreation and conservation economy, including programs that: strengthen conservation and recreation in national parks, forests and refuges; fund cooperative forest conservation in partnership with states and private landowners; and enable voluntary conservation activities on working farms, ranches and forests to protect wildlife, watersheds, and rural livelihoods.
Since the inception of the Fund, over $3.8 billion have been made available to State and local governments and approximately 41,000 projects have been funded throughout the nation.  For more information, please visit www.nps.gov/lwcf
BLM TO ENGAGE STATE, LOCAL, AND TRIBAL GOVERNMENTS IN BIPARTISAN WILDERNESS AGENDA
WASHINGTON – As part of Secretary of the Interior Ken Salazar's push to
build a bipartisan wilderness agenda that can be enacted in the 112th
Congress, Bureau of Land Management (BLM) state offices will solicit
suggestions and recommendations from state and local elected officials,
Tribes, and other federal land managers on areas that deserve wilderness
protection and that have broad support for congressional designation.
"The focus of this effort is to identify lands that have strong backing for
protection as wilderness and that might be appropriate for congressional
action," BLM Director Bob Abbey said.  "The best ideas for conservation
come from the ground up, and we hope this effort will help lay a foundation
for a bipartisan wilderness agenda in this Congress. We've heard from the
public and many people have expressed how much they value wilderness
areas."
This effort is an extension of Secretary Salazar's June 10, 2011, letter to
Members of Congress requesting their ideas on "crown jewel" areas of public
lands that have strong local support for permanent protection as Wilderness
under the Wilderness Act.  This fall, the Department of the Interior will
submit to Congress a list of "crown jewels" that it believes are ready for
Wilderness designation by Congress based on the combined input from
Congressional, state, local and tribal partners.
In addition, the BLM will issue updated guidance to its offices affirming
as directed by a June 1, 2011 Secretarial memo that pursuant to the 2011
Continuing Resolution, the BLM will not designate any lands as "Wild
Lands." As required by the Federal Land Policy and Management Act (FLPMA),
the BLM will continue to maintain inventories of public lands and their
resource and other values, including lands with wilderness characteristics.
Also, consistent with FLPMA and other applicable authorities, the BLM will
consider the wilderness characteristics of public lands, in accordance with
its multiple-use mandate, when undertaking land use planning and when
making project-level decisions.
Secretary Salazar has directed Deputy Secretary David J. Hayes to work with
the BLM and interested parties to develop recommendations regarding the
management of BLM lands with wilderness characteristics.
The BLM's Instruction Memoranda is available at http://on.doi.gov/mUeSTZ .
The BLM manages more land – over 245 million acres – than any other Federal
agency.   This  land,  known  as  the  National  System of Public Lands, is
primarily located in 12 Western states, including Alaska.  The Bureau, with
a  budget  of  about  $1  billion,  also  administers  700 million acres of
sub-surface  mineral  estate throughout the nation.  The BLM's multiple-use
mission  is  to sustain the health and productivity of the public lands for
the  use  and  enjoyment  of  present  and  future generations.  The Bureau
accomplishes  this  by  managing  such  activities  as  outdoor recreation,
livestock  grazing,  mineral  development,  and  energy  production, and by
conserving  natural,  historical,  cultural,  and other resources on public
lands.