FLOODING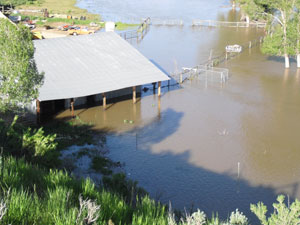 River watchers in South Central Wyoming say they believe the swollen rivers in the area will start to recede this weekend.  Carbon County Emergency Manager John  Zeiger said yesterday the North Platte and Little Snake rivers have been the focus of sandbagging efforts over the last couple of weeks.  He says he's seen forecasts that have rivers starting to recede tomorrow.  Flooding in Saratoga, Sinclair and Baggs has been attended to by inmate crews, the National Guard, and local law enforcement.  Even in Colorado, where the Elk and Yampa have overflowed their banks recently, cooler night time temperatures are expected to affect the river levels.  However, Moffat County Sheriff Tim Jantz says the headwaters of the Yampa are located on the Flattops, and there is still plenty of snow there.  Forecasters have often said this year there could be two peaks of flooding activity in Northwest Colorado.
BOY IN CREEK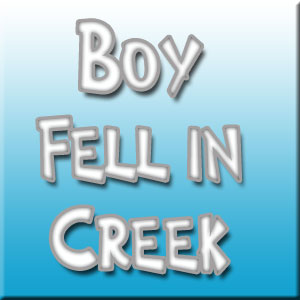 The little boy who fell into Butcherknife Creek last weekend has been upgraded.  Doctors in Denver say 15-month old Edwin Rodriguez is now in fair condition.  Rodriguez fell into the creek after straying from his home Saturday.  His grandfather found him.  He was taken to Yampa Valley medical Center before being airlifted to Children's Hospital in Denver.
DEERLODGE PARK CAMPGROUND TEMPORARILY CLOSED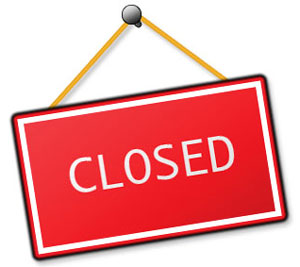 The National Park Service Deerlodge Park Campground in Dinosaur National Monument is temporarily closed due to fluctuating high water levels on the Yampa River. Yampa River trips with valid permits will still be allowed to launch from the site. Rangers will conduct river trip check-ins from the campground road, but overnight camping will not be permitted at Deerlodge Park.  Campers are encouraged to camp at the campground in Maybell, Colorado or on Bureau of Land Management (BLM) lands. Camping will not be allowed at the Cross Mountain parking lot. The National Park Service will permit camping temporarily for groups with river permits on an abandoned parking lot along the Deerlodge Road, downstream from the Cross Mountain parking lot. Porta-potties will be set up for campers' convenience.  The Deerlodge Park campground will re-open when waters recede.  Group campsites are available by reservation only at the Split Mountain Campground near the takeout on the Green River. Call 435-781-7759 for reservations or more information. Individual campsites are also available at the Green River Campground.  More information on the status of the Green and Yampa Rivers and any facilities affected by high water levels can be found directly at www.nps.gov/dino/planyourvisit/2011-river-levels.htm
You can also call Dinosaur National Monument, at (435) 781-7700, or visit us on the web at www.nps.gov/dino, find us on facebook or follow DinosaurNPS on twitter.
JOHN ROBERTS BACK AT WORK

Steamboat City Manager John Roberts has returned to his position on a full time basis. Roberts has been on medical leave ever since his accident at the Steamboat Ski Area in January. He took a fall on the slopes, and was found unconcious. The injuries he sustained kept him hospitalized in Denver for several months. His recovery required intense physical therapy, but his condition improved rapidly, and eventually he came back to work part-time a couple of months ago. As of the beginning of the month, Roberts is back to work full-time.
SKI AREA TEMPORARILY CLOSED; ROUTT NATIONAL FOREST STILL MOSTLY SNOWED IN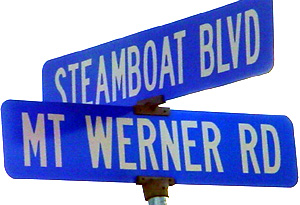 Due to melting snow and saturated conditions, the Steamboat Ski Area is closed to all public access until its scheduled summer opening on Wednesday, June 15. Mud slides and ground slumping have been experienced on five trails on the lower mountain, including a large area impacted on Vertigo. The resort is working with the US Forest Service as well as hydrology and soil experts to monitor terrain as it continues to dry out over the coming week. A determination on Opening Day activities will be made early next week; however, it is anticipated that gondola rides, restricted mountain biking and hiking as well as several food and beverage outlets will welcome summer guests.
Most Routt National Forest roads and trails around Steamboat Springs are closed because snow remains on the ground. "We are delaying opening roads for public safety due to the late snowmelt, excessive runoff, mudslides and high potential for culvert washouts, said recreation manager Kent Foster. "We're monitoring road status and will open gates and recreation sites as soon as we can."
The public is asked to respect the road closures and not endanger themselves or cause road damage by driving around gates, barricades or through snowbanks.
The best way to get the most current information about recreation opportunities is to call the Hahns Peak/Bears Ears Ranger District at 970-870-2299.  There will likely be several extended road closures due to culverts washing out, landslides and roads washed out.
Work to remove beetle-killed trees from along roads and trails will continue this summer. These activities will take place on many areas of the forest, including the ski areas. The Forest Service does not have the exact timing when these logging operations will take place since it depends on weather, contractors and other factors. Beginning June 15, a Hotline (970-870-2410) will be activated for road closures for logging operations only.
Falling trees are always a hazard when traveling in the forests. Please be aware of your surroundings. Avoid dense patches of dead trees. They can fall without warning. Forests visitors are responsible for their own safety.
NATIONAL TRUST FOR HISTORIC PRESERVATION AWARDS THE CITY OF STEAMBOAT SPRINGS A PRESERVATION GRANT FROM THE NATIONAL TRUST PRESERVATION FUNDS
Grant was part of the Mesa Schoolhouse Window Restoration Project.  Last year, the City of Steamboat Springs was awarded a $4,000 grant to restore the Mesa Schoolhouse windows by the National Trust for Historic Preservation from the Peter Grant Preservation Fund for Colorado established by the Gates Family Foundation for Colorado Preservation Services Fund.  These seed grant funds were used to leverage other grant funds from the Museum and Heritage Fund and the State Historical Fund from the Colorado Historical Society to complete the Mesa Schoolhouse window restoration project.
Mesa Schoolhouse was constructed in 1916 by Art Gumprecht and is one of the oldest schools in Routt County.  To preserve this important landmark, the restoration of the 18 existing double-hung and fixed wood windows was completed by Phoenix Window Restoration.  The iconic schoolhouse will continue to welcome visitors and locals arriving from Rabbit Ears Pass for many more decades in part because of this careful restoration work.
"Without organizations like the City of Steamboat Springs, communities and towns all across America would have a diminished sense of place," said Stephanie Meeks, president of the National Trust for Historic Preservation.  "The National Trust for Historic Preservation is honored to provide a grant to the City of Steamboat Springs, which will use the funds to help preserve an important piece of our shared heritage."
The National Trust for Historic Preservation dispenses small grants for local projects through the National Trust Preservation Funds grant program.  The grants range from $500 to $5,000 and have provided over $5.5 million dollars of funding since 2002.  They are awarded to nonprofit groups, educational institutions and public agencies, and must be matched, at least dollar for dollar, with public or private funds.  Preservation Funds grants are being used nationally for such wide-ranging activities as consultant services for rehabilitating buildings, technical assistance for tourism that promotes historic resources and educating children about their heritage.  These grants are often the deciding factor on whether historic buildings or sites can be saved for future generations.
For more information on National Trust for Historic Preservation's Preservation Fund grants, visit: www.PreservationNation.org/resources/find-funding/grants/
About the City of Steamboat Springs:  The City of Steamboat Springs, Colorado is home to world-class skiing, year-round recreational opportunities, and a vibrant western culture – all surrounded by some of the most beautiful mountain scenery in the world.
About the National Trust for Historic Preservation:   The National Trust for Historic Preservation (www.PreservationNation.org) is a non-profit membership organization bringing people together to protect, enhance and enjoy the places that matter to them.  By saving the places where great moments from history-and the important moments of everyday life – took place, the National Trust for Historic Preservation helps revitalize neighborhoods and communities, spark economic development and promote environmental sustainability.  With headquarters in Washington, DC, nine regional and field offices, 29 historic sites, and partner organizations in all 50 states, the National Trust for Historic Preservation provides leadership, education, advocacy and resources to a national network of people, organizations and local communities committed to saving places, connecting us to our history and collectively shaping the future of America's stories.
SHERIFF'S OFFICE GOLF TOURNAMENT RESCHEDULED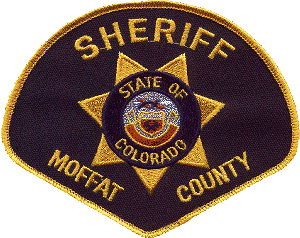 The Moffat County Sheriff's Office is putting off their Scholarship Fund Golf Tournament that was scheduled for tomorrow at the Yampa Valley Golf Course.  Much of the course is underwater due to the Yampa overflowing its banks.  One patron said the front 9 isn't even playable, and the back 9 has greens that are surrounded by water.  While that may make for some fun in a casual situation, the sheriff's office says it's not right for a competitive tournament.  The tournament has already been rescheduled for September 3rd.